Description

Ingredients

Preparation

Nutrition table

FAQ's
Made with European goat milk. Kabrita Junior is easy to digest and fortified with essential nutrients, for children 2 years and up.
Gentle A2 Milk

No GMO Ingredients

Made in the Netherlands
Ingredients: Nonfat dry goat milk, whole dry goat milk, lactose, inulin (prebiotic), and less than 1%: choline bitartrate, crypthecodinium cohnii oil (DHA), sodium L-ascorbate, L-ascorbic acid, vitamin E acetate, vitamin D3, bifidobacterium animalis ssp lactis (probiotic).
Contains: milk
*C. Cohnii oil, a source of docosahexaenoic acid (DHA)
**Inulin, a prebiotic fiber
***B animalis, a probiotic
Refer to table on label and fill glass with the desired amount of sanitary water.
Using the enclosed scoop, add the indicated amount of powder to water in glass.
Stir well, shake or blend until powder is completely dissolved
Prepare a glass no more than an hour before feeding.
Add to your favorite smoothie, afterschool snack or baked good!
Nutrition table
Nutrients
Unit
Per 100g
Per 100 kcal
Per Serving*
Energy
Kcal
404
100
105.04
Protein
g
23.7
5.9
6.16
Carbohydrates
g
58.5
14
15.21
Fiber (inulin)**
g
5.2
1.3
1.35
Fat
g
8.4
2.1
2.18
Saturated Fat
g
5.6
1.4
1.46
Trans Fat
g
0
0
0.00
DHA***
mg
36.1
8.9
9.39
Cholesterol
mg
39
9.7
10.14
Vitamin D3
mcg
14.5
3.6
3.77
Vitamin E
mg
2
0.5
0.52
Vitamin C
mg
17
4.2
4.42
Calcium
mg
807
200
209.82
Iron
mg
0.1
0.04
0.04
Sodium
mg
263
65
68.38
Potassium
mg
1369
339
355.94
Choline
mg
72
7.8
18.72
B animalis
CFU/g
1.00 x 106 CFU/gram powder
*Serving Size approx. 8 oz, 26 g of powder
Per 8 oz serving. ** Inulin, a prebiotic fiber. *** DHA, a long chain polyunsaturated fatty acid. † Added B animalis, a probiotic
Kabrita Junior is a fortified milk drink composed to nutritionally support children aged 2-7 years old (as part of a balanced and varied diet). The A2 protein and pre- and probiotics may support a healthy gut and vitamin C, D and E contribute to the normal immune system function. Conventional cow's milk is composed of a mixture of A1 and A2 milk, while goat milk naturally contains A2 milk with A1 milk being absent. This might seem as a small difference, but this is actually one of the many reasons why goat milk is naturally easier to digest and gentle on a child's tummy.
Both Kabrita Goat Milk Toddler Formula and Kabrita Junior are made from naturally easy-to-digest Dutch goat milk. Our Toddler Formula contains an adapted protein content and macronutrient profile for little ones, is fortified with 22 vitamins and minerals and intended for children 12-24 months. Kabrita Junior is a fortified milk, with vitamins C, D, E and DHA, intended for children over 2 years old.
Kabrita Junior is not suitable for infants. It should not be used as a substitute for infant formula or as a sole source of nutrition.
The proteins in milk consist of whey proteins and casein. The casein proteins can be divided in 4 different types: αS1-casein, αS2-casein, K-casein and B-casein. There are different genetic variants of B-casein, but the A1 and A2 variants are the major ones. Milk that only contains A2 B-casein and no A1 B-casein is called A2 milk, while A1 milk consists of a combination of A1 and A2 B-casein.
Kabrita Junior is not suitable for children with a confirmed cow milk protein allergy as goat milk protein may also provoke an allergic reaction. Kabrita Junior may be an option for children with a cow milk sensitivity.
Fluid goat milk and Kabrita Junior both naturally contain lactose, and are not suitable for children with a lactose intolerance. Kabrita Junior uses lactose as a primary carbohydrate with no added refined sugars such as maltodextrin or sucrose.
Triple Support for Growing Children

Gut Health
Kabrita Junior offers gentle goat milk nutrition which supports a healthy gut thanks to A2 protein and added pre and probiotic

Growth & Development
Protein and vitamin D contribute to children's normal growth and development.

Immune Function
Kabrita Junior contains added vitamins C, D and E, to support normal immune system function.*
*Based on recommended daily intake values for 1-3 year olds.
Tailored Nutrition
Kabrita Junior Goat Milk Nutrition contains essential nutrients for your growing kiddos!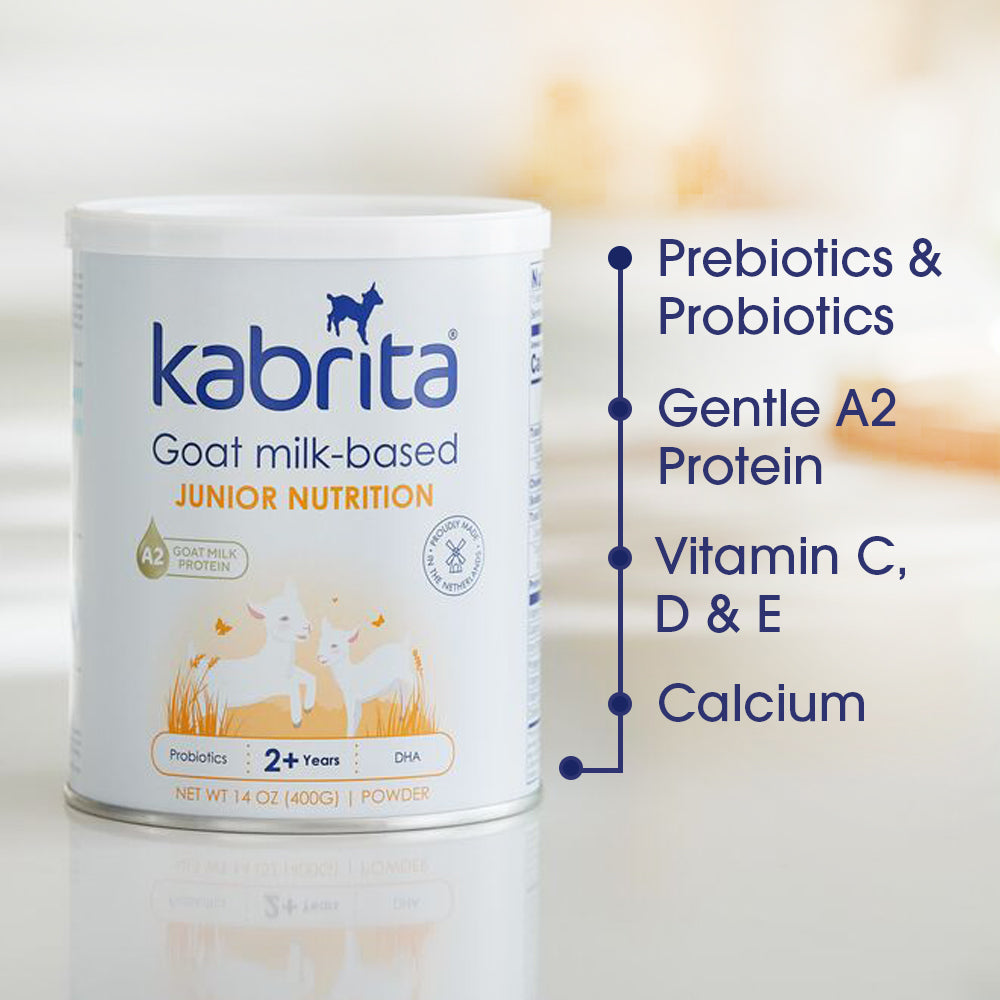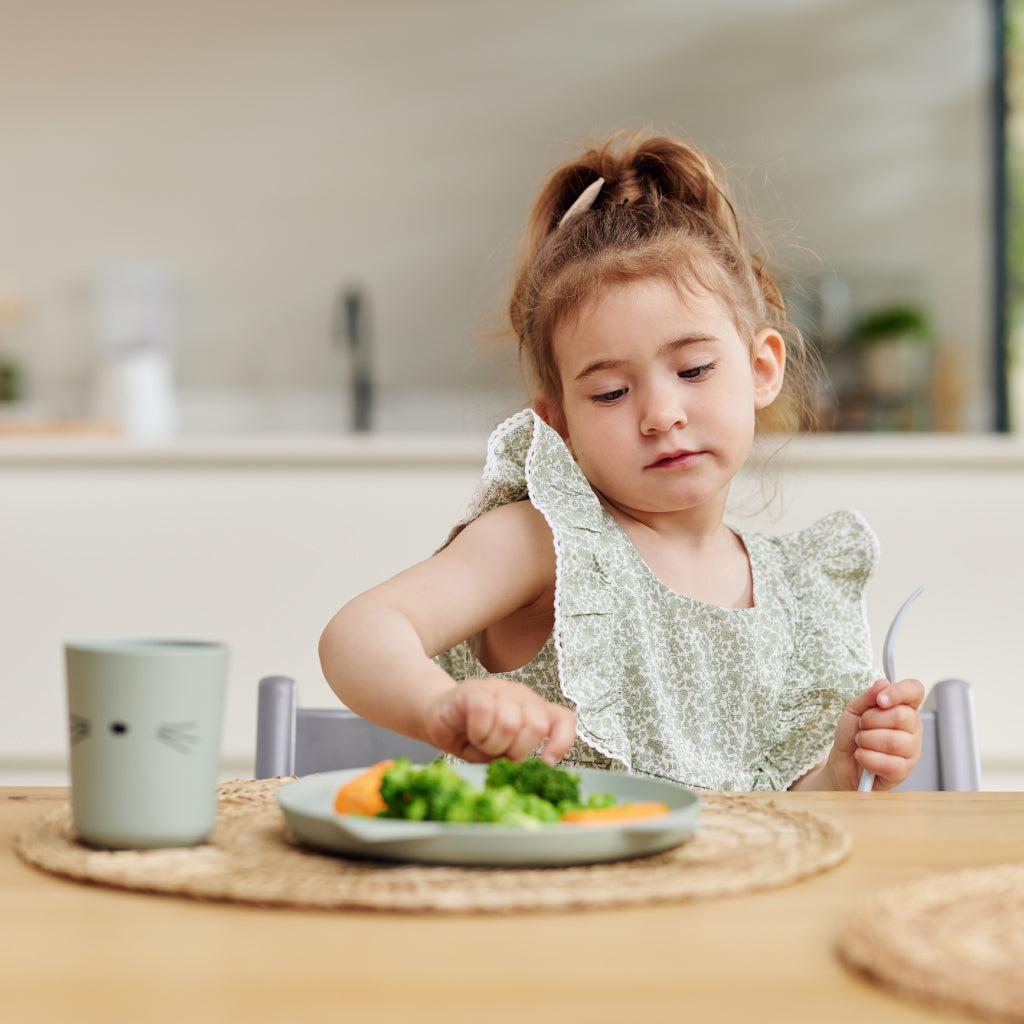 Picky Eater
Kabrita Junior is an ideal nutritional boost, with gentle A2 milk protein, fortified with DHA and vitamins C, D and E.
Gentle Next Step
With all the gentle benefits of goat milk, Kabrita Junior is a convenient alternative to fresh dairy milk for little ones weaning from formula—so you can continue to nourish your child with confidence!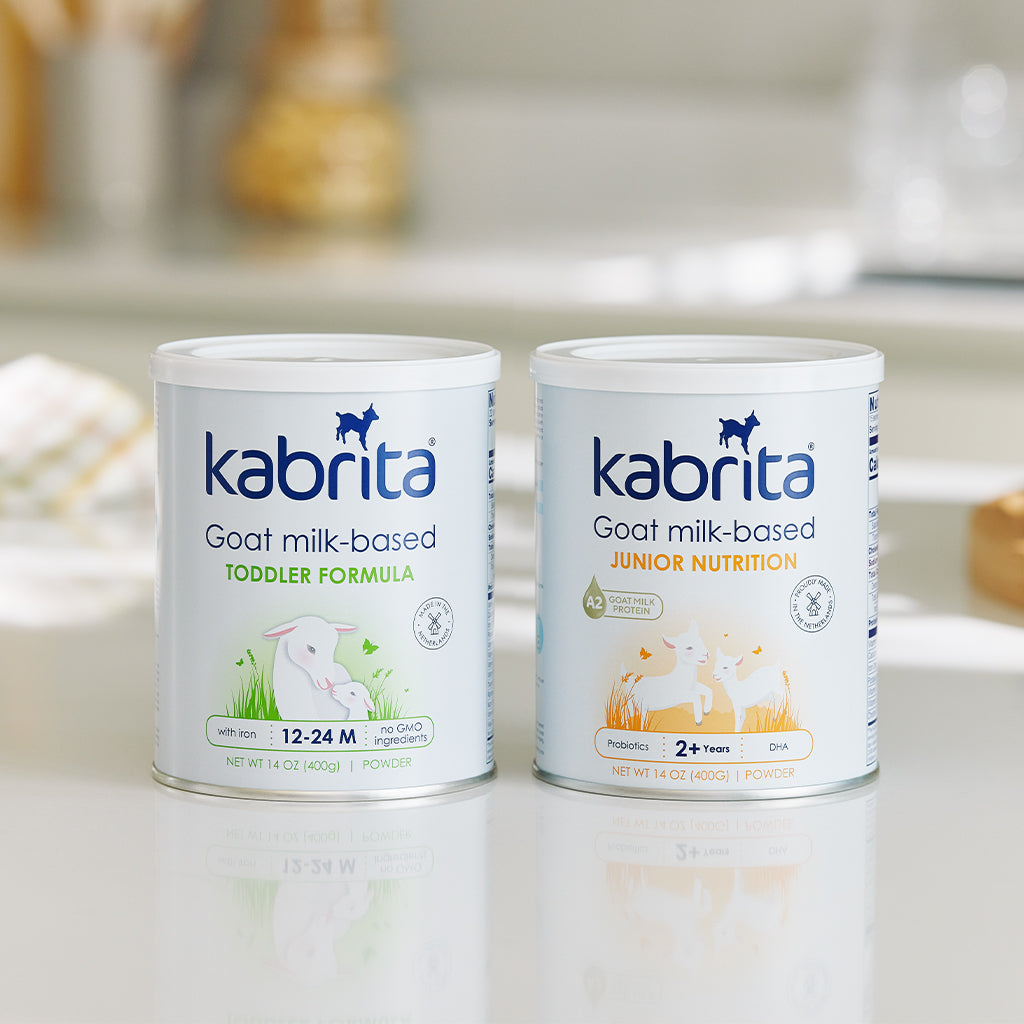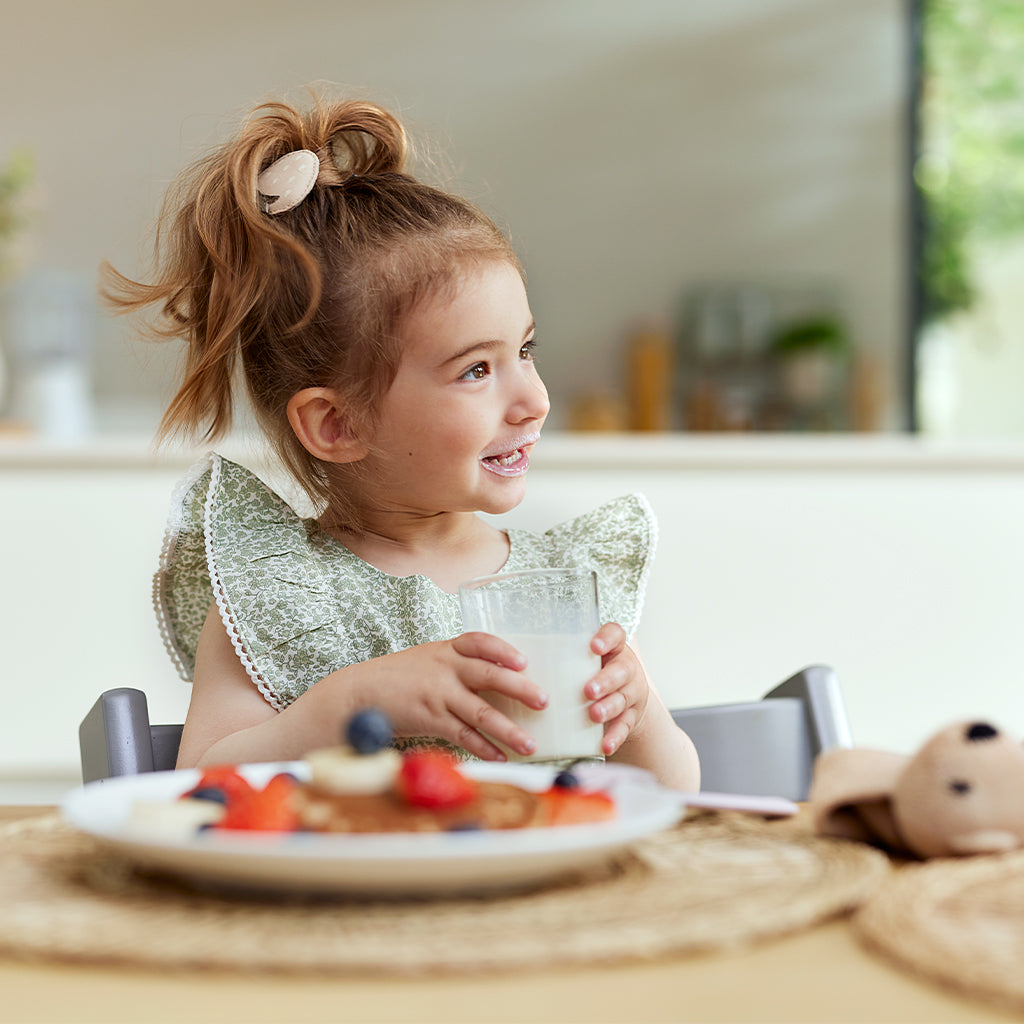 Breakfast Essential or Afterschool Snack
Kabrita Junior has a mild, naturally sweet taste that kids love! Just add water for a delicious glass of milk, add to a smoothie or your kids favorite baked goods recipe.
junior
for toddlers that still love the bottle, extra nutrition
Easy on the tummy
Seems that traditional formula has too much iron for my little one. This one is a perfect fit.
I love Kabrita
My kids love it. No more constipation and fussiness from gas.
Kabrita Junior Review
The product is amazing, the best quality I've ever seen, it's the best baby formula. Fastest delivery, no other website could offer me the same. You're simply the best!
Did someone say alfalfa :)
Kabrita is the best thing that happened to our child.