Toddler Formula Or Junior Nutrition: Which is right for your child?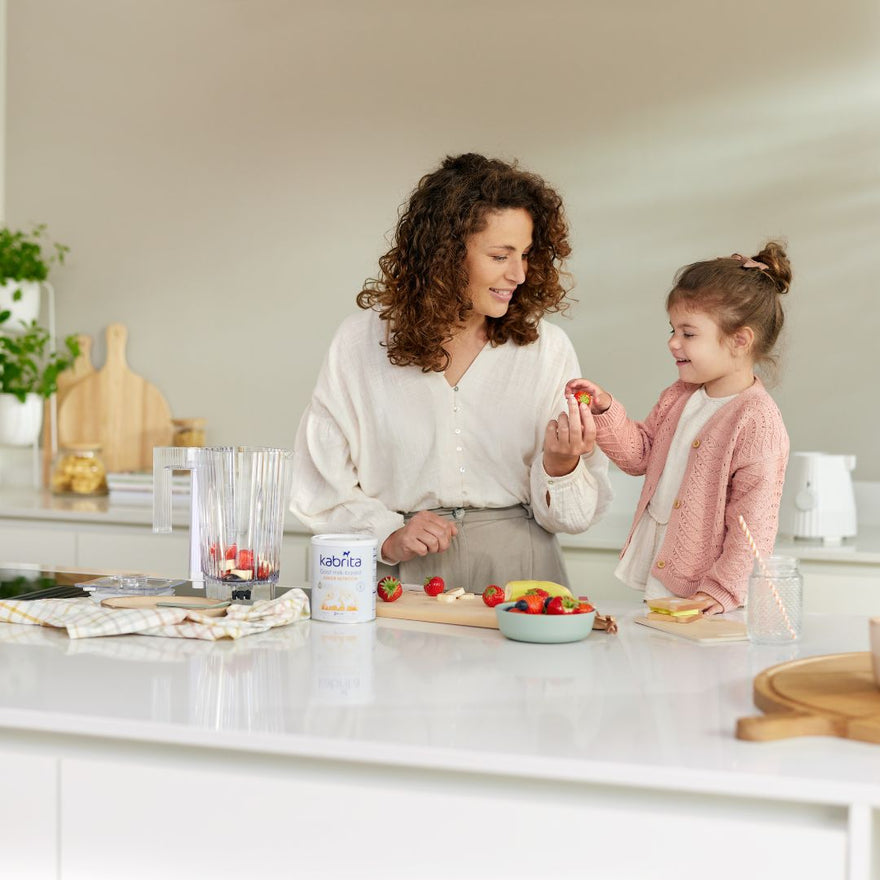 Introducing
Kabrita Goat Milk-based Junior Nutrition
! An easy-to-digest goat milk for children age 2 and over, and a natural next step after Kabrita Goat Milk Toddler Formula. Read on to learn more about how they compare and which gentle Kabrita product is right for your little one.
Ingredients
All Kabrita products are based on the natural goodness of goat milk. Both
Kabrita Goat Milk Toddler Formula
and
Kabrita Junior Nutrition
use high quality Dutch goat milk with naturally
easy-to-digest A2 goat milk protein
*. Our products are made in the Netherlands and contain no GMO ingredients.
Kabrita Goat Milk Toddler Formula is a powdered baby formula intended for little ones age 12-24 months. Our formula contains whey-dominant goat milk protein, which may make it even easier to digest. Lactose is the primary carbohydrate used, the preferred source for most babies and an important source of energy. The fat in Kabrita Goat Milk Toddler Formula comes from our premium plant-based fat blend with
beta palmitate
, which allows for an ideal fatty acid profile for babies and improved mineral and fat absorption. Prebiotic GOS is also added, which may support a healthy gut microbiome.
Kabrita Junior Nutrition is a powdered goat milk for children age 2 and up and intended as a next step after toddler formula. Whole goat milk and skim goat milk provide an easy to digest protein and fat source, and may make it a convenient alternative for little ones with mild digestive issues associated with cow milk*. Because we love the gut, Kabrita Junior also contains added prebiotic inulin and probiotic
B animalis
.
Nutrients
As a formula, Kabrita Goat Milk Toddler Formula is fortified with 22 vitamins and minerals including iron, vitamin D, folic acid and DHA. Our formula provides a wider array of micronutrients than Kabrita Junior, while your toddler is still learning to adapt to eating more whole foods. Like all baby formulas, the total amount of protein is adapted (reduced) in order to be safe for babies.
At two years old, children are getting most of their nutrients from whole foods, and Kabrita Junior may serve as a complement to their diet and alternative to cow milk. It is fortified with a few select key nutrients, such as vitamins C, D, E and DHA, because we know some kids can still be picky eaters at this age. Kabrita Junior contains less fat than our toddler formula, which is in line with nutritional recommendations at this age. Both our toddler formula and Kabrita Junior are not suitable as an infant formula or sole source of nutrition.
For more a in depth nutritional information on our
toddler formula, click here
.
Common Uses
Most families use Kabrita Goat Milk Toddler Formula in a bottle with their little one, throughout the day or before naps and bedtime. The amount of formula they drink will vary depending on age and amount of solid food they eat.

Kabrita Junior Nutrition comes in an easy-to-mix powder with a long shelf life. Just add water for a delicious glass of milk, a perfect addition to breakfast or their after school snack. Mix Kabrita Junior into a smoothie for added protein (check out this yummy strawberry banana goat milk smoothie), or try it in your kids favorite recipe.

We can't wait for you to try Kabrita Junior Nutrition, so you can continue to nourish your little one confidence.
---
*We encourage parents to consult their little one's healthcare provider before making a feeding change. Not suitable for children with confirmed cow milk protein allergy.