Benefits of Using Toddler Formula with your One Year Old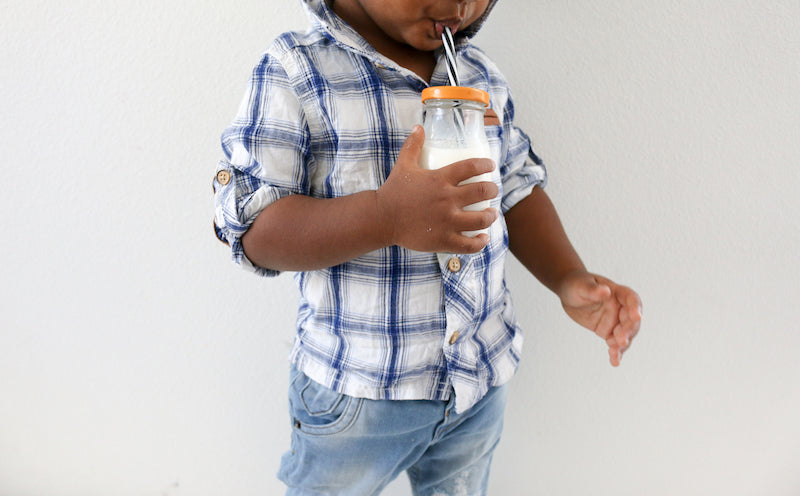 Cow's milk is one of many options that you can be offered at that special 1-year milestone. So why is cow milk traditionally recommended? Read on to learn more about cow milk introduction, when toddler formula is appropriate, and why toddler formula is more common in Europe than in the US.
Common Feeding Practices at 1 Year of Age
Until your child turns one, most medical experts recommend that breast milk or formula should be the primary food during the first year of life, with complementary solid foods starting around 6 months. The
WHO recommends
breastfeeding until 2 years and beyond if desired, with age-appropriate complementary foods. At age 1, however, common practice in the US is that parents can start replacing breastmilk or formula for whole cow's milk. Whole cow's milk has advantages worth noting; it's less expensive than formula, easily accessible and offers important nutrients for your toddler such as protein, vitamin D, fat, and calcium.
3 Instances in Which Toddler Formula Might Be a Suitable Option at the Age of 1
While whole cow's milk may be sufficient for many toddlers, it may not be an optimal choice for ALL toddlers. Here are 3 instances in which toddler formula may be beneficial.
Nutritional insurance while introducing solids
As toddlers are introduced to solid foods, they may not be getting all required nutrients from foods. After all, sometimes more food ends up on the floor than in their mouths. In this instance, some parents may choose a toddler formula which provides a wider array of vitamins and minerals and extra nutritional insurance while their baby adapts to a whole foods diet.
Toddlers who are sensitive to cow's milk
Some toddlers may have digestive discomfort associated with cow's milk, such as constipation, diarrhea, or upset tummy. Plant based milks such as almond milk and oat milk, lack many important macro and micronutrients for rapidly growing toddlers. These toddlers may benefit from a nutrient dense milk or toddler formula with an easier to digest protein such as that found in Kabrita Goat Milk Toddler Formula*. Learn more about what makes goat milk protein easier digest.
Toddlers with nutrient deficiencies
Picky eaters, low-weight toddlers and little ones at risk of nutrient deficiencies may benefit from a toddler formula. Well formulated toddler formulas are fortified and offer micronutrients that cow's milk and other milk alternatives may not offer in sufficient quantities such as iron, DHA and zinc. Learn more about how Kabrita Goat Milk Toddler Formula compares to other milk alternatives by downloading our milk alternatives comparison chart below!

Common Nutrient Deficiencies in Toddlers
Some of the most common nutrient deficiencies in US children ages 1-6 include iron, vitamin D, calcium and DHA. Toddler formula can help fill the gap of these common nutrient deficiencies. For inspiration and education about food introduction, check out our Nourish Blog. Inside, you'll find healthy tips for food introduction as well as a list of common foods high in iron, vitamin D, fiber and omega 3 fatty acids.
Toddler Formula in Europe
In the US, formula is generally separated into two stages: Infant formula ages 0-12 months, and toddler formula, for ages 12-24 months. Instead, the EU offers stages of milks: Stage 1 infant formula suitable from birth, Stage 2 follow-on formula starting around 4-6 months, stage 3 follow-on formula starting from 10-12 months, and even stage 4 growing-up milk from about 2 years old. Typically, there is less emphasis placed on the upper age limit in these stages. With this model, it is easy to see how many parents in Europe choose to continue through the milk stages of their chosen brand as their infant grows into a toddler, moving on to the next stage as parents feel confident their child is getting what they need from their diet.

Practical Tips and Tricks for Introducing Toddler Formula
We know how difficult it is to ensure that your little one is getting all the nutrients they need which is why our toddler formula is fortified with 22 vitamins and minerals including iron, vitamin D, calcium and DHA. For parents interested in using a toddler formula, here are some practical tips to make the transition as seamless and nutritious as possible!
For those toddlers ready to move away from the bottle, consider offering formula in a straw cup or open cup at mealtime to promote development of oral motor skills
Try adding toddler formula to your smoothie for extra nutritional insurance
Swap out milk for Kabrita Goat Milk Toddler Formula in your favorite recipes. Check out our Nourish Blog for toddler mealtime inspiration such as peach cobbler, steel cut oatmeal, and chocolate milkshake.
Fortification Fills the Gaps!
Kabrita Goat Milk Toddler Formula is a cow milk alternative*, designed for toddlers 12-24 months. It's gentle on tiny tummies, naturally easy to digest, and fortified with important nutrients that may be challenging for little ones to achieve through diet alone. Kabrita Goat Milk Toddler Formula contains no GMO ingredients and is made in Europe.
---
Kabrita Goat Milk Toddler Formula may be an option for little ones during feeding transitions, such as weaning and supplementing, or those with minor issues associated with cow milk sensitivity*.We encourage parents to consult their little one's healthcare provider before making a feeding change. 

*Not suitable for children with confirmed cow milk protein allergy