Peach Cobbler with Kabrita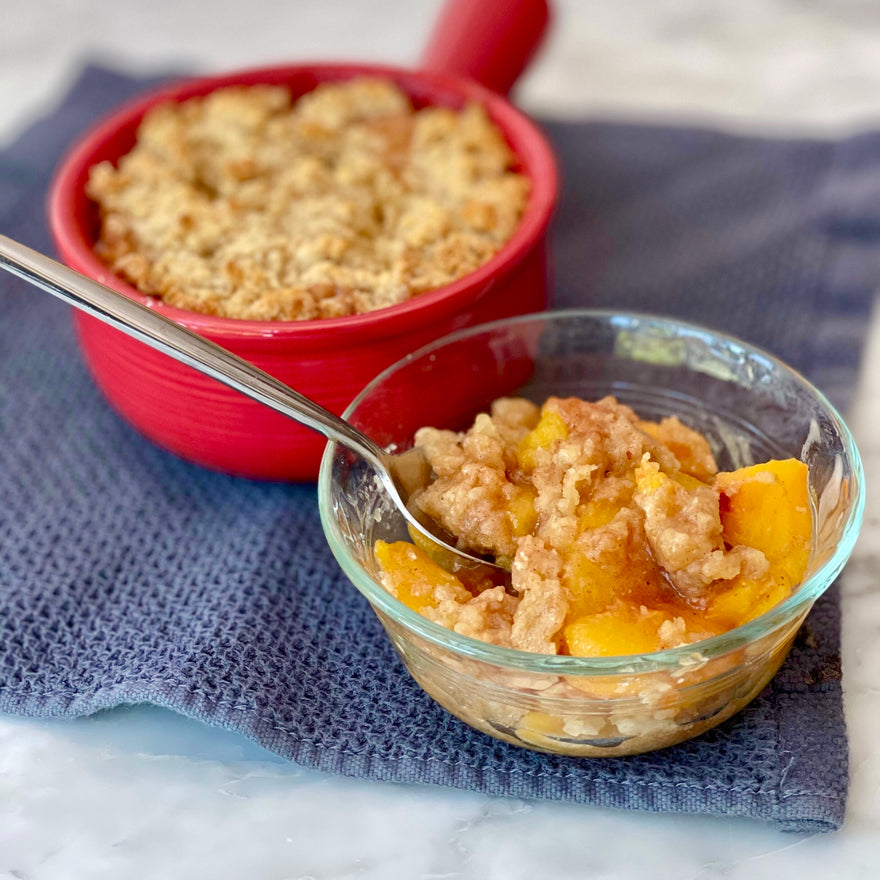 Healthy peach cobbler is such a fun way to include peaches in your little one's diet. Peaches are naturally a good source of vitamin C and fiber, and the addition of Kabrita Goat Milk Toddler Formula provides additional nutrients and gentle protein that is easy to digest. This is a delicious and nutrient-dense recipe you can feel confident about feeding your little one!
Ingredients:
20 oz peaches* peeled and sliced (approx. 8 peaches)
2 tbsp maple syrup
1/2 tsp cinnamon
1/8 tsp nutmeg
1 tsp lemon juice
2 tsp cornstarch
3/4 cup all-purpose wheat flour (or flour alternative)
1 tsp baking powder
6 tablespoons plant-based butter cut into small pieces
1 tbsp maple syrup
3-4 tbsp milk alternative
*If fresh peaches aren't available, frozen peaches work well! Just let them thaw before using. Be sure to cut the peaches into manageable sizes for your little one.
How To Make Peach Cobbler:
Combine peaches, maple syrup, cinnamon, nutmeg, lemon juice and cornstarch. Place into 4 small Ramekins and bake for 10 minutes at 350 F.
Combine flour, Kabrita Goat Milk Toddler Formula, baking powder and plant-based butter. Blend in butter with your fingertips, and then combine. Stir in the maple syrup and milk alternative.
Carefully remove the ramekins from oven and drop in the topping over the peaches. Bake for about 30 minutes until the topping is golden brown, let cool for 15 minutes and enjoy warm!
---
Originally published April 12, 2021
We love seeing how parents incorporate the Gentle Goodness of Kabrita Goat Milk Foods into their everyday.

Tag us in your recipes @hellokabrita for a chance to be featured!