Creamy Steel-cut Oat and Goat Milk Porridge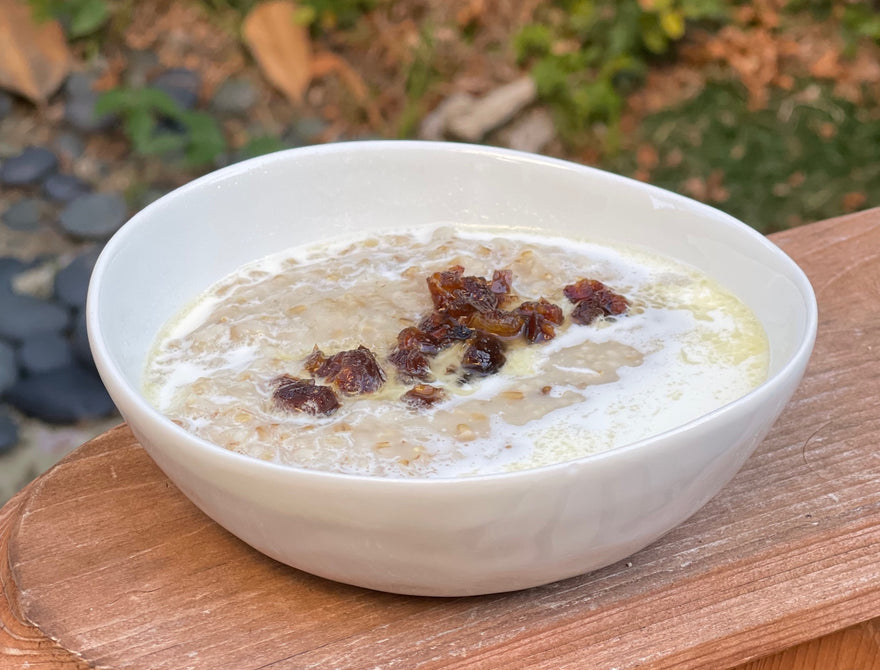 We're sad to let our community know that we've made the difficult decision to discontinue Kabrita Organic Goat Milk Porridges due to rising costs. We feel that parents will get the most value by incorporating Kabrita Goat Milk Toddler Formula into their favorite organic whole grain cereal, as an alternative. To help bridge the gap, we're sharing our newest nutrient-dense Creamy Steel-cut Oat and Goat Milk Porridge recipe with you all.
This recipe can just as easily be done with regular oats, but steel-cut oats are a step above and provide a little extra fiber, a lower glycemic index, and are just that much more delicious! Another benefit to this recipe is iron. Because steel-cut oats and Kabrita Goat Milk Toddler Formula both contain iron, you can expect your little one to get at least 2mg of iron per serving.

The trick to steel cut oats is foresight (or an instant pot). If you wake up craving steel cut oats, you can cook them on the stovetop in about 35 minutes. If that's simply too long to wait, we recommend combining 1 cup steel cut oats and 4 cups water in a pot before bed at night. Soaking your oats before bed cuts your cooking time by half and sets you up for morning breakfast success!

These oats are creamy with just the right amount of chew and texture, naturally sweetened with little jewelled bits of chopped up dates and fortified with vegan butter and Kabrita Goat Milk Toddler Formula to help keep you and your little ones satiated until snack time.

Makes 4 servings.

Ingredients:
Porridge:
1 cup steel cut oats
4 cups water
Pinch of salt
Medjool topping:
1 tbsp vegan butter or coconut oil
4 pitted Medjool dates (chopped)
Milk:

How To Make Creamy Steel Cut Oat & Goat Milk Porridge:
Soak the steel cut oats, water and pinch of salt overnight. In the morning, bring the pot to a boil and let simmer, stirring regularly for 15-20 minutes until the liquid is absorbed and the oats are soft, silky and creamy with just a slight chewiness. Spoon over the chopped Medjool butter and add a good splash of Kabrita Goat Milk Toddler Formula over the top.

If you don't have any Medjool dates, here are some other possibilities! Try some mashed seasonal berries with a tsp of honey (honey only over the age of 1 please), or a heaping tsp of raspberry jam would work well also. If you're feeling extra decadent, try a tbsp of almond butter mixed with 1 tbsp of maple syrup for the win!


---
We love seeing how parents incorporate the Gentle Goodness of Kabrita Goat Milk Foods into their everyday. Tag us in your recipes @hellokabrita for a chance to be featured!