How Kabrita Helped Mila Ease Her Daughter's Eczema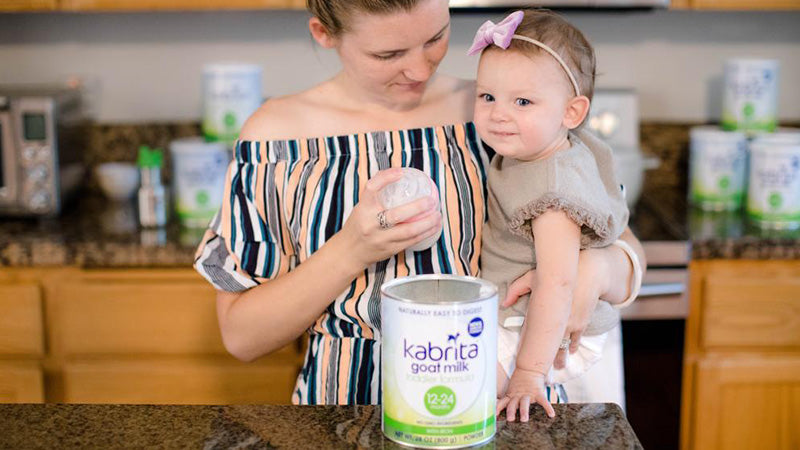 Every mom's feeding experience is as unique as her baby. While the journey may be easy for some, others may struggle with many issues. Real Mom Story is a series on our blog where we ask real moms to share their feeding stories. Being a mom can be difficult at times for anyone. Whether you're expecting or already have little one, we hope these stories can offer you insight on what worked (or didn't work) for moms just like you. Today, we will be sharing Emiliya and Milana's story!
How did you first hear of Kabrita, and why did it seem like a good solution for Milana?
I first heard about Kabrita through a Mom Blogger (bondgirlglam.com) before I got pregnant with Milana. When I was pregnant, I decided that if I had to use formula with my baby, I would try Kabrita.
I have been exclusively breastfeeding for 9 months. Around 6 months, I started losing a lot of my milk supply. I wanted to switch to formula. I had some Earth's Best formula on hand and when I started giving it to my daughter, she would scream, spit-up, and have an upset tummy. She just refused it! So, I continued to breastfeed with what I had and started eating any lactation cookies to get my supply going, but nothing helped.
Recently, I won a giveaway on Instagram from Kabrita, and it included the Kabrita Goat Milk Formula. It said that it's for toddlers 12 to 24 months, so I made an appointment to consult her doctor and see if it was okay to give it to her at 9 months. Her doctor gave us the okay, and we switch to Kabrita formula. I was worried about the weaning process and how Milana would take the formula since we didn't have such a good experience the first time with regular formula. However, the switch was more comfortable than I thought and she loves it.
Did Milana have symptoms related to cow-milk sensitivity? And also describe how drinking Kabrita may have helped with those?
Milana has very dry skin and eczema. Ever since I made the switch to Kabrita, her eczema patches started disappearing. This is such a relief! She finally stopped scratching herself.
Did the 'European Quality' element influence your decision to try Kabrita?
The European quality does make a big difference to me. When I was growing up in Ukraine, I always knew that the European ingredients are better. I LOVE knowing what I feed my baby is coming from a good source.
How did your Milana transition to Kabrita?
I needed to transition from exclusively breastfeeding, and Kabrita was the only formula that I found that was easier to digest. She transitioned perfectly! She has had no digestive symptoms with the switch, and it's even helping with her eczema.
What do you think of Kabrita's flavor?
Kabrita is the only formula that tastes and smells similar to breastmilk. I tried the formula myself before giving it to her, and it tastes like my breastmilk (yes, I tried my breastmilk). It has no smell to it and tastes sweet. But most importantly, Milana loves it!
What is your favourite thing about Kabrita Formula?
I love that I can buy it at my local Whole Foods Market or Marlene's when I run out. Also, I have a peace of mind knowing that I'm giving her a high quality, non-GMO formula that's gentle on her stomach and it's helping with her eczema and she loves it! Thank you Kabrita!
Kabrita non-GMO Goat Milk Formula is designed to maintain the natural comfort of little ones during feeding transitions, such as weaning, supplementing or changing formulas due to skin or tummy troubles*.
Are you curious to see if Kabrita Goat Milk Formula may be right for your family? Check out our free trial kit today!
*Not suitable for cow milk protein allergy