Sweet Potato and Herb Gnocchi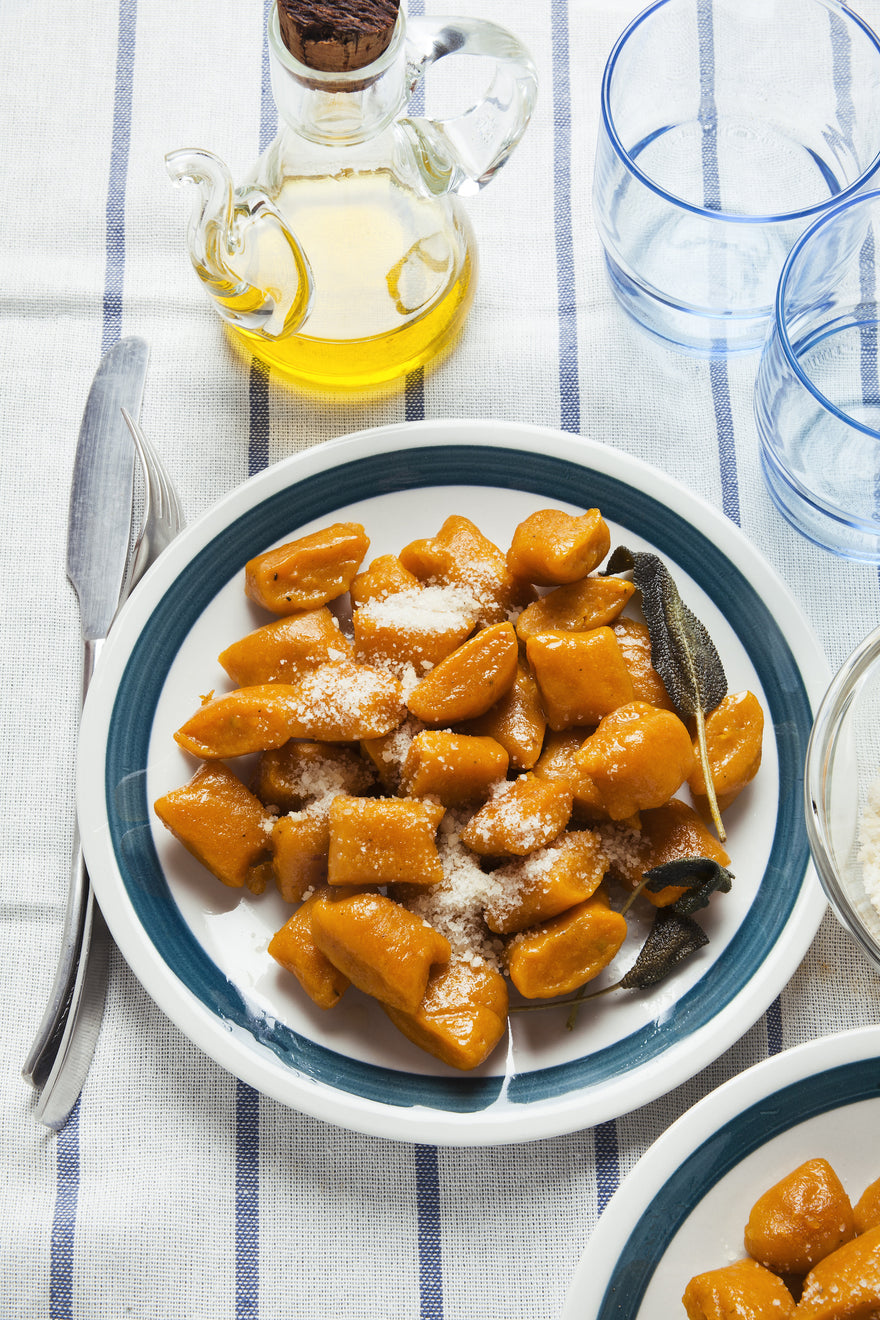 Sweet potato makes great gnocchi and also happens to be a wonderful source of vitamin A. Vitamin A is a fat-soluble vitamin that plays an important role in vision and immune function. While the herbs in this recipe are entirely optional, we highly recommend them as gnocchi is a great vehicle for introducing subtle herbal flavors to your little one. This recipe is versatile, and herbs can also be used interchangeably – whatever you have on hand will likely work nicely!
Ingredients:
1 medium size sweet potato
1 medium size russet potato
3 cloves of garlic
1 tsp salt
1/2 tsp pepper
1-2 sage leaves chopped
1-2 tbsp of chopped parsley
1 sprig of rosemary and/ or sage (optional)
2-3 tbsp olive oil
2-3 tbsp of flour
How To Make Sweet Potato & Herb Gnocchi:
Preheat oven to 400 F.
Wrap the potatoes and garlic cloves in aluminum foil and bake for 35 minutes until cooked and soft.
Once the potatoes and garlic are baked, scoop the flesh from the potatoes, discarding the skin and squeeze out the garlic from its casing.
Combine the potato and garlic mixture in a bowl and add in Kabrita Goat Milk Toddler Formula, salt, pepper and diced herbs.
Mix together with a fork until combined.
Turn dough out onto a floured surface, kneed gently until smooth.
Cut dough into quarters and roll each quarter of dough out on a floured surface into 3/4 inch ropes.
Cut rope on an angle into 1-inch gnocchi.
Place a non-stick fry pan on medium heat, add 2 tbsp of olive oil and sprigs of rosemary & sage (whole as you'll remove them later). Add in the gnocchi and allow to cook for 2-3 minutes, gently rotating so that the gnocchi are lightly seared. Serve and enjoy!


---
Originally published July 19, 2021
Ready to boost your smoothies and recipes? Join thousands of happy Kabrita Families and claim your Free Trial Kit today!

Kabrita Goat Milk Toddler Formula may be an option for little ones during feeding transitions, such as weaning and supplementing, or those with minor issues associated with cow milk sensitivity*.

*Not suitable for children with a confirmed cow milk protein allergy