Goat Milk Mango Spinach Puree and Spinach Hummus For Toddlers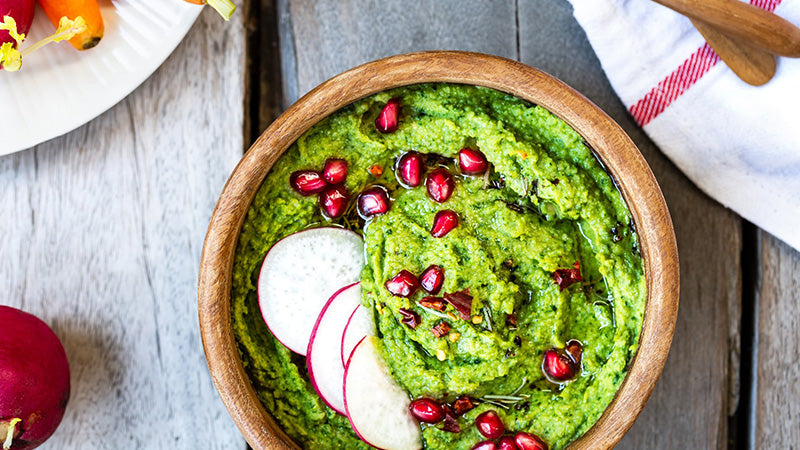 These wholesome, spinach recipes made using Kabrita Goat Milk Formula are excellent for introducing new foods to your little one and are excellent for kids with cow milk sensitivity. These delicious purees are perfect small side dishes for your little one during the holidays!
Recipe by Kristen Curran
Real Kabrita mom, Kristen, created these toddler-approved recipes for her daughter Paige using spinach! Both recipes are super easy, no cooking is required! Here are the directions:
How To Make Mango Spinach Puree:
Spinach and mango have a high water content, so you won't need to add as much water to the mix as usual to make formula! In a blender, combine spinach, the mango, and then Kabrita Goat Milk Formula. Add the water on top and puree! Serve right away, and pour the extra into an ice cube tray and freeze for use later. When you're ready to serve, let it thaw in the fridge and serve a little chilled.
How To Make Spinach Hummus:
2 – 2 1/2 Cups Fresh Spinach
1 Can (15oz) Garbanzo Beans (low sodium if available)
4 Scoops Kabrita Goat Milk Formula
2 – 3oz Water
Put spinach in the blender first, add Garbonzo beans, and Kabrita Goat Milk Formula on top. Pour the water over and do a few pulses. This puree will be a little thick, so you may need to scrape the sides down with a rubber spatula once or twice. A few short pulses again, and you are done. Serve right away! Scoop the rest into an ice cube tray with a spoon and freeze. This hummus is suitable to serve warmed up or thawed in the fridge.
---
Ready to boost your smoothies and recipes? Join thousands of happy Kabrita Families and claim your Free Trial Kit today!
Kabrita Goat Milk Toddler Formula may be an option for little ones during feeding transitions, such as weaning and supplementing, or those with minor issues associated with cow milk sensitivity*.
*Not suitable for children with a confirmed cow milk protein allergy