How to Choose the Best Formula for Weaning & Supplementing
Choosing to supplement breastfeeding* with formula and how, when and what to wean your baby to may feel like an emotional and challenging transition.
Kabrita USA is committed to supporting parents who have already made the personal decision to wean or supplement.
With so many formula options in the market, how can a parent know what criteria to use when selecting formula?
*It's important to know that breast milk supply depends on baby's demand, so the less often a baby nurses; the less milk will be produced. Supplementing with formula regularly will likely diminish breast milk supply. Any feeding change should be discussed with your healthcare provider
While every little one is unique, we believe that most babies will thrive on a formula modelled after the following key attributes:
Easy to digest protein
Adapted whey casein ratio
Lactose as the main carbohydrate
A fat blend with beta-palmitate
Added Omega-3 fatty acids
Made by a company that is transparent about ingredients used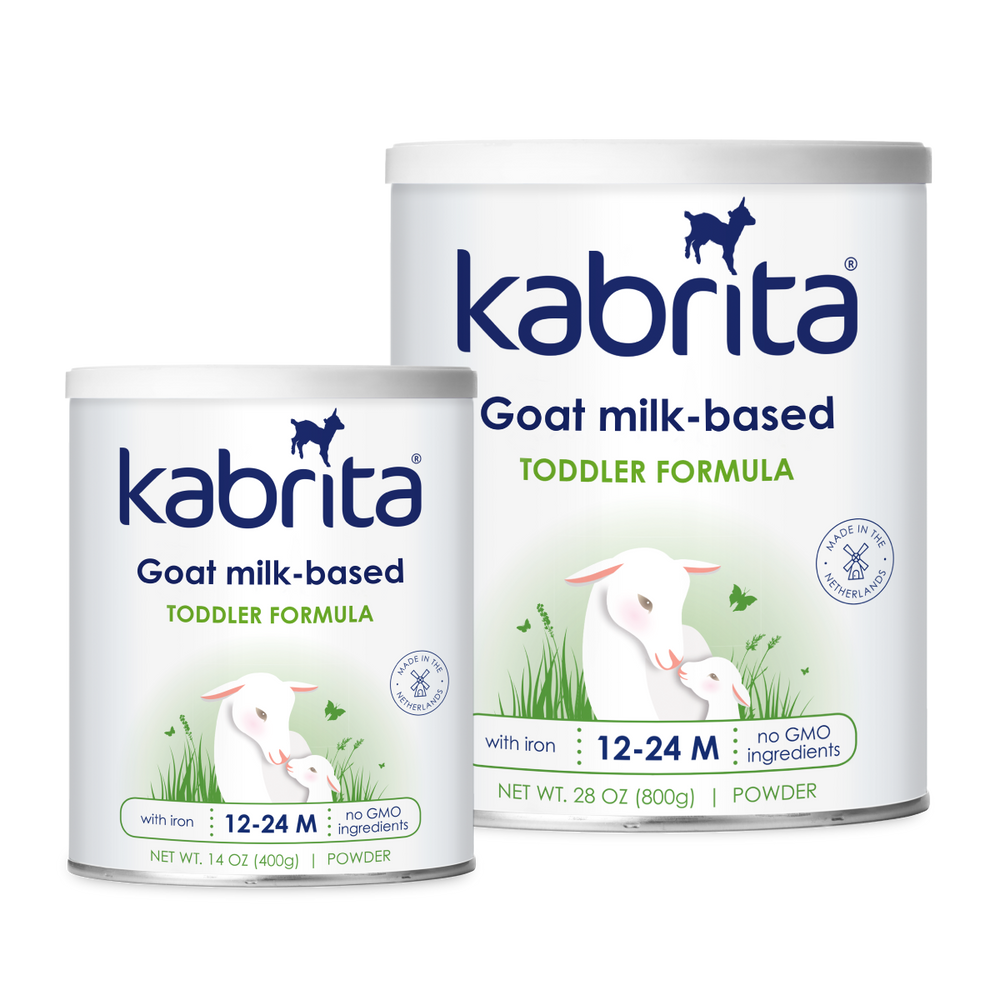 Short Ingredient List or Functional Ingredients?
While it's tempting to want formula with simple and familiar ingredients,
it's important to decode the label and learn about functional formula ingredients.
Take a closer look at Kabrita's Ingredients:
The Kabrita Difference
The Kabrita Difference is simple: We've crafted our formula based on what is best for baby, using the highest quality, European, GMO-free ingredients.
Protein is an important macronutrient for growing children. It's required for the growth and development of bones, muscles, teeth and hair, as well as the proper functioning of the immune system.

Our formula starts with gentle goat milk, which has been shown to form a small and soft curd in the tummy and appears to digest quicker than cow milk protein. And then, we adapt it with goat milk whey, making it even easier to digest.
Fat is a critical macronutrient for babies. It is essential for the rapid growth phase following birth, to help in the delivery of fat-soluble vitamins (such as A, D, E and K), and to support neurological development and brain function.

We use a premium fat blend with beta palmitate. Gentle beta-palmitate fat blends have been shown to increase bone density, as well as improve nutrient absorption and stool consistency.
Carbohydrates supply valuable energy and are critical for little one's optimal growth and development.

We choose Lactose, a natural carbohydrate, because it has been shown to support the gut microbiome and calcium absorption.
Kabrita Goat Milk Formula is made in the Netherlands where strict European standards limit the use of antibiotics, growth hormones and pesticides. Kabrita goat milk formula is free from GMOs and heavy metals, and our goats are always treated with loving care.

Kabrita Goat Milk Toddler Formula is an option for feeding transitions, such as weaning or supplementing, or changing formula due to skin or tummy troubles. We hope you'll join thousands of happy families and claim your Free Sample Offer today!
1 oz Kabrita
3 oz current
formula or milk

2 oz Kabrita
2 oz current
formula or milk

3 oz Kabrita
1 oz current
formula or milk
3 oz Kabrita
1 oz current
formula or milk
Transitioning to Kabrita over five days may help ensure that your little one takes to it successfully. You'll want to combine their current formula or milk with Kabrita– gradually increasing the amount of Kabrita and decreasing the amount of current milk or formula used each day over five days. For 8 ounce bottles, you would simply double the quantities.
If you have questions or need a bit more support while introducing Kabrita, chat with us or email us at hello@kabrita.ca. We'd love to support you on this feeding transition!
Success Stories
Kabrita parents are telling us that our goat milk based formula is the ideal choice when it comes time to wean or supplement.
"We have been using Kabrita since my daughter was about 12 months old. We breast fed for the first ten months then my daughter naturally weaned from breast feeding to a home made goat milk formula we started making for her from scratch. This was really great for a while but it was very messy and time consuming. Then, I saw Kabrita at Natural Grocers (our local health food store) and we decided to give it a try. We care very much about quality and non-GMO so Kabrita was just right for us. Way easier than the formula we were making from scratch, and very tasty, my daughter loved it right away! We plan to use it until [she] is at least 24 months maybe—a little longer, just because she loves it so much! Thank you Kabrita, we love your products!!!"
Granolapoweryall
"I already knew I liked the yogurt for my one year old, so I got this formula to see if he would like it. I had been exclusively breastfeeding him and I don't want to switch him to cow's milk or a cow milk formula. My son enjoys this formula and I serve it to him in a Pura sippy cup, which is his favorite cup! So far he only gets formula once or twice a day but I will continue to wean him slowly off of breast milk."–The J"I strictly breastfed my baby until 13 months. Now I am slowly weaning him. He drinks 6 oz. of the Kabrita formula a day. I was worried he wouldn't like it or that it would be hard for him to adjust to, but that's not been the case at all. Happy baby and momma!"–Beckee
"I got the free sample and started slowly adding an ounce to my son's breast milk (which he hated in a bottle) as we got to half and half he would suck his bottles down so fast. My oldest nursed until he was 3, mainly because we couldn't find milk he enjoyed. I'm feeling so much better this time around. My son is 9 months and loving this stuff. Also love that it's in stores! I used the $5 off coupon easily!"–Devyn L.
"After reviewing and comparing the nutritional information to Standard infant formula and hypoallergenic formula, I got a thumbs up from my paediatrician and decided to try toddler formula as a supplement for my 4 month old who is half breast-fed. My baby absolutely refuses hypoallergenic formula and I don't blame her it smells awful. Kabrita is so mild smelling and my baby drinks and tolerates it just fine. We plan to keep her on it as long as possible. It has been the cure to her tummy troubles!!"–Mom 4
"I had to supplement my second child with formula after finding out that I was not producing enough milk for her. I breast-fed my first daughter for several years, so it was a shock to me that I was not producing enough for my second baby. We chose to go with Kabrita knowing that goats' milk is much easier to digest for babies than cow's milk. We are so happy that we chose Kabrita because our baby is growing at a healthy pace now, catching up on the growth chart and is feeling happy and full, and best of all—no tummy pain from poor digestion. We love that we never have to waste any milk she doesn't drink in one sitting because you can just pop it in the fridge and it will still be good within 24 hours! None of our bottles ever smell sour because this is like real genuine milk :)"–Caitdyn
"We started using Kabrita to supplement with breast milk and then eventually used it solely. It was a seamless transition. No upset stomach or any issues of that kind. We were so happy to find this alternative instead of using traditional formulas."–Jen P

"My son had to have supplemental feeds after he was not gaining enough weight with just breast milk. After trying numerous formulas—which all left him gassy and miserable, we tried Kabrita and have never looked back. Our baby is back to his happy self, spits up less and is gaining weight at a great level."–Jody1079