Why goat milk toddler formula?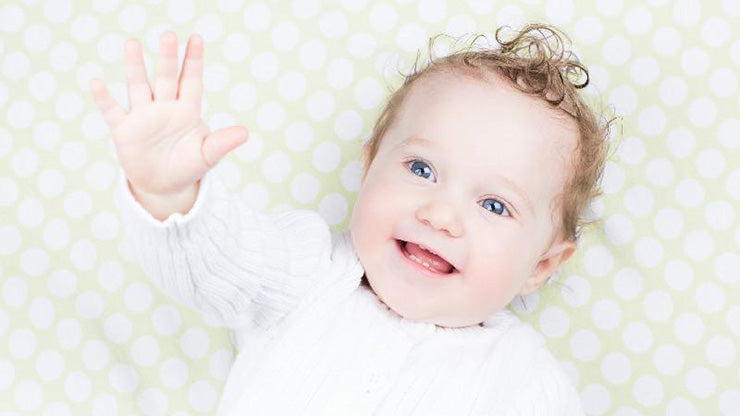 The American Academy of Pediatrics recommends transitioning to whole cow milk at 12 months. For children avoiding cow milk, Goat Milk Toddler Formula is an excellent option – it's naturally easy to digest and contains all the vitamins and minerals growing toddlers need.
By Dr. Annie Salsberg, ND
For some children, consumption of cow milk can result in digestive discomfort, congestion or rashes – mild to moderate symptoms commonly associated with cow milk sensitivity (CMS). CMS affects 30-50% of children and most often impacts the gut, skin and lungs, and may include bloating, gas, constipation, diarrhea, abdominal pain, respiratory congestion, and eczema.
CMS is not the same as a confirmed cow milk protein allergy (CMPA), which, according to the North American Society Pediatric Gastroenterologists, is a potentially serious condition that affects only about 2-3% of children under the age of six. Lactose intolerance is even less common.
For children with CMS, removing cow milk from the diet can lead to symptom relief. But it can also leave families searching for a nutritionally complete alternative – that's where Kabrita Goat Milk Toddler Formula comes in.
Goat milk protein is naturally easy to digest
Goat milk protein tends to be well-tolerated by children with CMS and one of the key reasons is that goat milk protein forms a smaller and softer curd in the stomach compared to cow milk protein. This smaller and softer curd may result in less digestive discomfort caused by the 'churn' of breaking down larger and tougher cow milk proteins.
For children under the age of two, however, whole goat milk is not ideal, as it is low folic acid, vitamin D and iron – all important to toddler growth and development. By using goat milk protein as a base for formula, we harness the naturally easy to digest benefits of goat milk in an adapted formula with all the vitamins and nutrients toddlers need.
Kabrita Goat Milk Toddler Formula is nutritionally enhanced
Children under the age of two require nutrient-dense, calorie-rich foods. For that reason, cow milk alternatives such as rice, nut and soy milk, do not provide the nutrition they need. According to the Institute of Medicine, toddlers aged 1-3 require at least 13g of protein and Kabrita Toddler Formula contains 5g of protein per cup, while nut milk contains 1g of protein or less per cup.
Nut milks also lack vitamin K, B vitamins, folic acid, phosphorous, zinc, manganese, copper and selenium. Kabrita Toddler Formula is nutritionally complete with 22 added vitamins and minerals. It's important for all parents to ensure children eat a wide variety food to ensure optimal nutrition, regardless of what milk option they choose.
Kabrita Goat Milk Toddler Formula is adapted and enriched
Kabrita Goat Milk Toddler Formula contains a premium OPO fat blend, patterned after the fat found in breast milk that increases the absorption of calcium and essential fatty acids while improving digestive health. It also enriched with DHA and ARA, essential fatty acids that support vision and the nervous system.
For children with cow milk sensitivity, finding an alternative can help ease symptoms and make life happier for the whole family. Kabrita Goat Milk Toddler Formula is an excellent, nutritionally complete cow milk alternative for children ages 12-24 months.
Get Kabrita at your favorite retailer. Our store locator can help find a store near you.
Dr. Annie Salsberg is a board-certified naturopathic physician and Nutritional Science and Education Manager at Kabrita.
Don't forget to follow us on Twitter, Pinterest and Instagram, and like us on Facebook for more nutrition and parenting tips!