Shauna's Journey Using Kabrita for Her Daughter's Reflux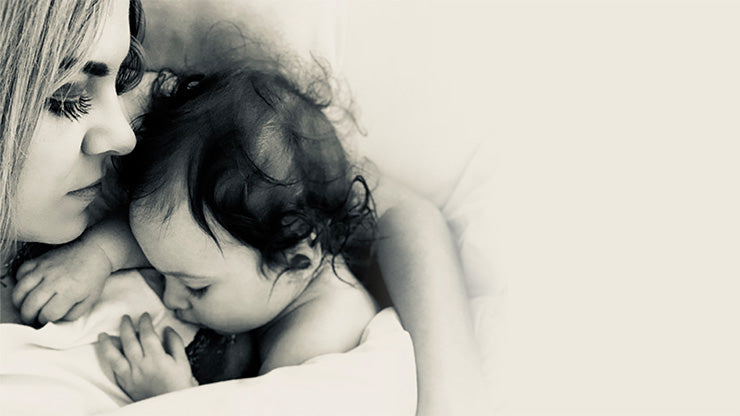 Every parent's feeding experience is as unique as their baby. While the journey may be easy for some, others may struggle. Real Parent Story is a series on our blog where we ask real parents to share their feeding stories. Whether you're expecting or already have little one, we hope these stories can offer you insight into what worked (or didn't work) for parents just like you. Today, we will be sharing a story on how Kabrita helped Shauna ease her daughter's reflux and tummy troubles!
Tell us a little bit about Harlow. How did you hear about Kabrita? Why did your family have a need for goat milk formula instead of regular milk formula?
We call her our "happy" Harlow because she is always smiling! She is very, very determined and has been an early developer! She was born with a full head of dark hair and is an absolute mamas girl.
I first heard about Kabrita from a friend who exclusively breastfed, but had heard amazing things about the formula. I was discussing our reflux issues with her, and she told me to do some research on it.
Once I identified that Harlow had silent reflux, our pediatrician put us on medication. We tried several formulas to find the right mixture, but none of them seem to do the trick. On top of it all, I wasn't comfortable with giving medication to my little girl.
I began doing my research and decided that I was going to switch her to a goat milk formula. I felt that a goat milk-based formula would hopefully solve our issues.
Can you describe some of Harlow's symptoms? How were her symptoms after switching to Kabrita?
Harlow would experience extreme discomfort! For such a happy child, she didn't want to eat and would start to fuss. It just got to a point where she didn't want to eat much at all. Once we introduced Kabrita, her symptoms disappeared almost instantaneously! She stopped fussing, she calmed down, and she didn't spit up at all anymore. She was able to consume a full bottle without having to break or whine for the first time. I was so happy when I gave her the formula for the first time. I finally felt like we finally found our solution, and she wasn't in any pain anymore.
Did the 'European quality' element influence your decision to try Kabrita?
Yes! Once I realized the rigorous European regulations versus the regulations in the United States when it comes to formula, I realized this was a much healthier and safer route for us. I feel so comfortable knowing that my baby's health is being put first by this company. I never have to worry about what she's eating and what harm the ingredients may or may not be causing.
How did Harlow transition to Kabrita?
She transitioned very well to Kabrita! Her symptoms disappeared instantly, and she has been such a happy eater ever since. We've had zero issues since we started her on the formula and she no longer needs to take breaks while feeding!
What do you think of Kabrita's flavor?
I have never tasted the formula, but I can say it's the best baby formula flavor I've ever used. It doesn't have that typical awful odor that usually accompanies baby formula. It's pleasant, and I love opening the tin.
Is there anything else you'd like to add or share?
I just wanted to thank Kabrita for putting a product on the market that moms can trust. It has been a lifesaver for our family and a lifestyle change for us as well.
---
Kabrita USA Real Parent Story Series is for information purposes only. It's not meant to treat, cure, or diagnose any health issues. Before making any feeding changes, it is recommended that you speak with your healthcare professional. Kabrita Goat Milk Toddler Formula is designed to maintain the natural comfort of little ones during feeding transitions, such as weaning, supplementing, or changing formulas due to minor issues associated with cow milk sensitivity*.
Are you curious to see if Kabrita Goat Milk Formula & Foods may be right for your family? Check out our free trial kit today!
*Not suitable for cow milk protein allergy