Reducing Your Child's Exposure to Toxins in Food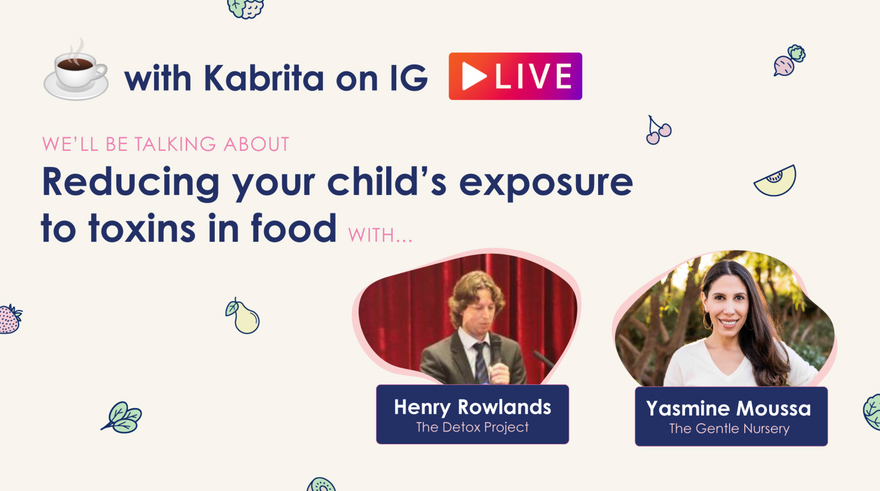 We opened up the conversation with Henry Rowlands from The Detox Project and Yasmine Moussa from The Gentle Nursery to discuss environmental toxins and how they end up in our food supply.
We were surprised to find out, for example, that many 'BPA-free' products have been replaced with other plastic substitutes that are just as harmful as BPA! Or that glyphosate is commonly used off-label to speed up the drying of crops, which increases the incidences of residues ending up in our food supply.
If you missed the conversation on @hellokabrita's IG Live series, Coffee with Kabrita, you can watch a replay below! Learn about Henry and Yasmine's approach to avoiding environmental toxin exposure and gain practical tips on what to look for when purchasing baby products and food.
During our conversation, we discussed:
Glyphosate: the most common herbicide in the world⚠️
Food labels and what they really mean

🏷️

Endocrine disruptors in baby foods and products

🧬

Practical advice on how to avoid inadvertently feeding or exposing environmental toxins to our children

🍼
Here are 5 key takeaways!
Buying organic on a budget


When it comes to buying organic on a budget, focus on the foods you consume most regularly, and try to prioritize buying organic when purchasing those foods that typically contain more pesticide residues. Unsure which foods belong to the Clean Fifteen and Dirty Dozen list? Here's a helpful downloadable guide that we invite you print out!





Understand your labels and what they mean


Labels and certification can be broadly categorized into two groups: process-based and final product certifications. Process based certifications are based on farming methods, production, and handling during the farming process. Final product certifications assess the end-product. Each type of certification has their strengths and limitations and it's worth spending a bit of time getting to know what they mean to help inform your food choices.





Children are more susceptible to toxic chemicals


Their behaviors, such as playing on the ground, putting things in their mouths, exploring, and touching everything makes them more likely to encounter environmental toxins. They're also smaller and absorb chemicals more easily through their skin. Their detoxification pathways are not as well developed as that of an adult, and relative to their weight, they consume more food, water and air, increasing their potential exposure to toxins.

To become more familiar with the chemicals and behaviors that can lead to increased exposure in little ones we recommend reading this article on Environmental Toxins.



Aim to avoid regular toxic exposure


Yasmine recommends the 80/20 rule; focus on avoiding toxins in whatever makes up the bulk of you or your child's routine and don't sweat the rest, otherwise you can end up driving yourself crazy! For more tips and tricks on reducing environmental toxicity in your home, we recommend reading Yasmine's blog on 10 Simple Steps to Reducing Your Baby's Exposure to Glyphosate and Other Pesticides.



Baby bottles


Both Henry and Yasmine strongly encourage the use of glass or stainless-steel baby bottles. Also, if you do choose the plastic route, look for 'phenol-free' in plastics, not just 'BPA-free.'

For more educational resources and useful tips on avoiding environmental toxin exposure, we highly recommend that you to follow The Detox Project on Instagram

@glyphosatefreecertification

and The Gentle Nursery

@thegentlenursery.
If you're new to Kabrita and want to listen in on our next informative IG-Live, you can find us @hellokabrita. We hope to see you there!
---
Are you curious to see if Kabrita Goat Milk Formula may be right for your family? Check out our free trial kit today!
*Not suitable for cow milk protein allergy