Jessica's Story Using Kabrita to Help with Gus' Chronic Ear Infections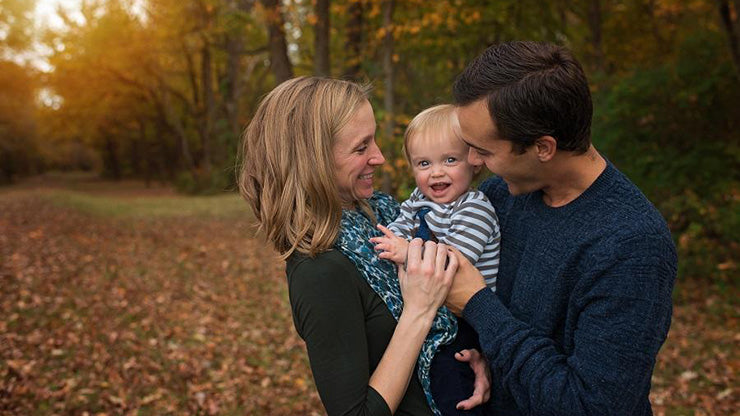 Every parent's feeding experience is as unique as their baby. While the journey may be easy for some, others may struggle. Real Parent Story is a series on our blog where we ask real parents to share their feeding stories. Whether you're expecting or already have little one, we hope these stories can offer you insight into what worked (or didn't work) for parents just like you.
Read Jessica's story about how making the switch to goat milk formula helped with her little boy's chronic ear infections, relieved his eczema symptoms and reduced congestion.
By Jessica K. Wood:
I first heard about Kabrita goat milk formula through my pediatric gastroenterologist, Dr. Carey. We were trying all kinds of different formulas because Gus kept getting ear infections. He had to have tubes put in and had been on antibiotics for nine weeks, so I had concerns about his gut health.
Before the surgery I had talked to his Ear Nose and Throat doctor about going off cow milk formula, but he didn't take the idea seriously. He told me that Gus was going to be a "frequent flyer" and that was just how it was going to be until he grew out of it.
Shortly after, I did some research with Dr. Carey and she said there were all kinds of cow milk dairy free formulas worth trying. We started with amino acid formula, but it made him feel sick. We switched back to cow milk formula for about two weeks, but he developed mucus congestion (he had already been diagnosed with asthma) and severe eczema – it got really bad, like open sores, so I said we need to try something else.
Within four days of starting Gus on Kabrita, the eczema was almost totally cleared up – and he liked the taste. After switching to Kabrita, Gus slept through the night for the first time in his whole life, which was huge. I get emotional every time I think about it – we were up at least once a night for a year!
The best thing has just been watching him grow. He gets excited about his bottles and now that his stomach feels better, he's been taking more solids, too. He's been gaining weight and he is a happy, healthy toddler.
---
Kabrita USA Real Parent Story Series is for information purposes only. It's not meant to treat, cure, or diagnose any health issues. Before making any feeding changes, it is recommended that you speak with your healthcare professional. Kabrita Goat Milk Toddler Formula is designed to maintain the natural comfort of little ones during feeding transitions, such as weaning, supplementing, or changing formulas due to minor issues associated with cow milk sensitivity*.
*Not suitable for cow milk protein allergy