Jamie Lynn's Success using Kabrita for Minor Issues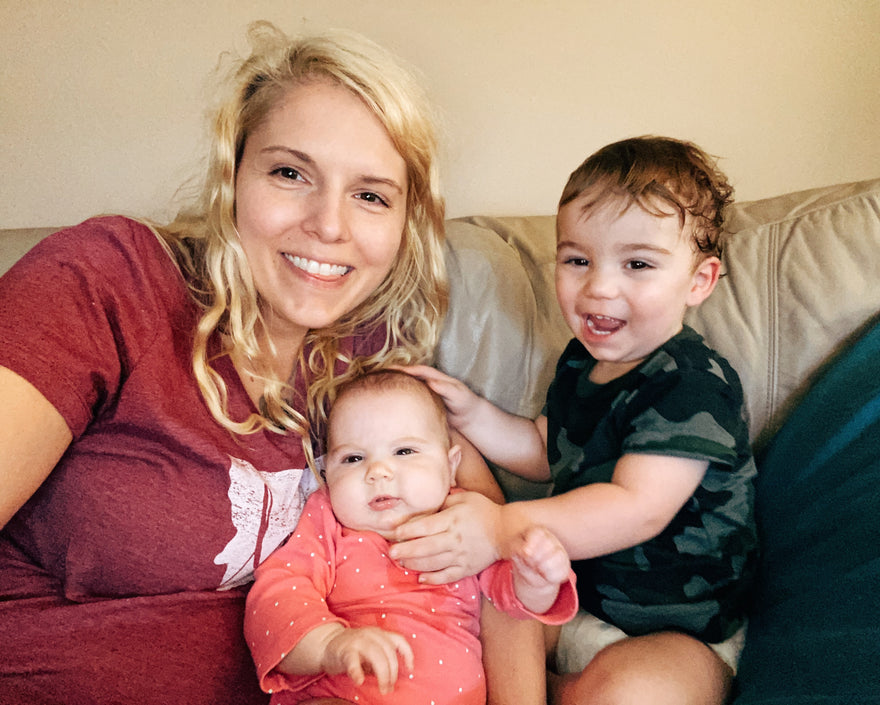 Every parent's feeding experience is as unique as their baby. While the journey may be easy for some, others may struggle. Real Parent Story is a series on our blog where we ask real parents to share their feeding stories. Whether you're expecting or already have little one, we hope these stories can offer you insight into what worked (or didn't work) for parents just like you.
Today, we will be sharing Jamie Lynn's story
How did you first hear of Kabrita?
I was doing a little bit of research through Google and the internet looking for alternatives to regular cow's milk cereals and formulas. As well as different alternatives to soy. That's when I actually discovered Kabrita. I saw on their website that they had a free trial and I decided to just give it a try and see if that was going to work well and help Chase.
Why did your family have a need for Goat Milk Formula?
We actually had a need for Kabrita Formula after my son, Chase, had multiple ear infections. He was on antibiotics for over 6 months and it really destroyed a lot of the good gut bacteria in his stomach. We tried switching him to a soy-based formula to deal with his tummy issues, but he actually has a soy sensitivity that we discovered when we were trying to make that transition. I started to look for other options because I knew that formulas that were specially formulated for children with gassiness and sensitive stomachs weren't cutting it for him at all.
If related to symptoms being experienced by your child, can you describe them? And also describe how drinking Kabrita may have helped with those?
We got the tin of baby formula and within a week's time, we already noticed a drastic difference in how his diapers were looking, how he was dealing with his fussiness and tummy issues, and how he was starting to now become normal again. We were so grateful!
How did your child take/transition to Kabrita?
Now there were a few other formulas that we did try to put Chase on first. And even if they were going to be a good solution to his problems, Chase did not like them. He wasn't happy with them, he somehow didn't like the taste, something about it just wasn't working out for him and he would refuse his bottles. So that was a big concern when we first switched over to Kabrita. I wasn't sure how he was going to take to the fact that this was goat's milk. It was a much higher quality product, maybe it didn't have as much of the other junk that some of the other formulas that he has previously had that might make it taste better. But fortunately for us, Chase immediately took to Kabrita. He loved the formula. The bottles went down really smooth and he didn't have any of those ridiculous amounts of tummy issues.
What is your favorite thing about Kabrita Goat Milk Toddler Formula?
One of our favorite things and this might sound really silly, but one of our favorite things about Kabrita is the fact that the formula scoop is much smaller. We don't have as much spilling as we're pouring the scoops into the bottle. I know that might sound like a really funny thing to nit-pick on. But even though you're going to do one scoop per ounce, just the fact that the scoop is smaller, we weren't making as big of a mess and it was easier to get into the bottle. It was such a cleaner, nicer process.
Is there anything else you'd like to add or share?
He went on Kabrita because he had horrible, chronic double ear infections from March 2019-August 2019 (he finally got tubes!). He was on antibiotics so much they just destroyed his poor stomach. His diapers were liquid, he had yeast infections and so many skin issues. We noticed a difference within one week of being on Kabrita. He's now in the 98th percentile for weight and he's thriving. We are so grateful for your formula!
Overall, we've been so pleased with Kabrita. I've told tons of my friends about it; I've told everybody you've got to get it. At least try the free sample and see if your child is actually going to like it, but I don't see why they wouldn't. Chase is kind of picky and he really loves Kabrita's formula. It's worked out so great for him. We aren't really as concerned with his health. Since being on Kabrita, Chase has not been sick. That's unbelievable. He did have tubes put in his ears for his chronic ear infections, which has certainly helped, but we expected him to have a lot of issues that he does. But a lot of his skin issues and his irritations like diaper rashes that I think he was getting from some of his tummy troubles, hasn't actually been happening anymore. So, we are really grateful. We absolutely love Kabrita's formula. I'm so glad that we can get it in Whole Foods, which is one of my favorite places to shop. It's so great! They'll send out coupons every once in a while, too. We're really pleased with Kabrita's formula overall and I definitely recommend anybody giving it a try.
---
Kabrita USA Real Parent Story Series is for information purposes only. It's not meant to treat, cure, or diagnose any health issues. Before making any feeding changes, it is recommended that you speak with your healthcare professional. Kabrita Goat Milk Toddler Formula is designed to maintain the natural comfort of little ones during feeding transitions, such as weaning, supplementing, or changing formulas due to minor issues associated with cow milk sensitivity*.
Are you curious to see if Kabrita Goat Milk Formula & Foods may be right for your family? Check out our free trial kit today!