How Kabrita Helped Pricilla Ease Her Son's Eczema and Tummy Troubles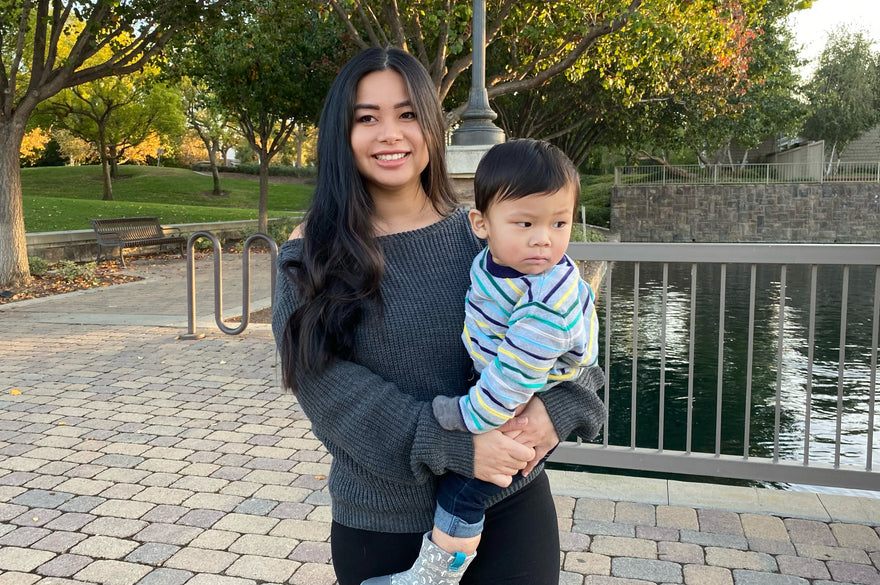 Every parent's feeding experience is as unique as their baby. While the journey may be easy for some, others may struggle. Real Parent Story is a series on our blog where we ask real parents to share their feeding stories. Whether you're expecting or already have little one, we hope these stories can offer you insight into what worked (or didn't work) for parents just like you.
Today, we are sharing Pricilla's story
How did you first hear of Kabrita?
I discovered Kabrita Goat milk from searching up the best alternative for (cow) milk-based formulas without soy.
Why did your family have a need for goat milk formula?
We had trouble finding formula for my son that he can take without having an allergic reaction or tummy problems.
If related to symptoms being experienced by your child, can you describe them? And also describe how drinking Kabrita may have helped with those?
My son had developed severe eczema and multiple food allergies. After reading about Kabrita's goat milk formula and the benefits of switching to goat milk, I had to give it a try. Ever since we switched to Kabrita, his eczema on his skin has healed and cleared up significantly. We also had no tummy issues or vomiting since we gave him the goat milk.
If related to your need to supplement with or switch to formula, please describe why you chose to do so and why Kabrita seemed like a good solution?
After comparing and trying out different formulas, my son had difficulty taking any formula. We suggested goat milk to our toddler's Allergist, and he approved us trying goat milk as his formula. It was easily one of the best decision that we ever made for our son. The Kabrita goat milk was the only one that my son was able to drink with no problems. In addition, my son's eczema was able to clear up and heal while on this formula. It was also a plus that Kabrita uses high quality ingredients that has the vitamins that my son needed.
How did your child take/transition to Kabrita?
We gave it to him without mixing with his previous formula he was on. He drank it happily. My son was able to transition to Kabrita with ease. He had no tummy issues and loves the taste.
What is your favourite thing about Kabrita Formula?
My favorite thing about Kabrita Formula is that the formula is easy to digest for my son that also contains essential nutrients, and quality ingredients for my son that I can trust.
Is there anything else you'd like to add or share?
I'm so happy to have found Kabrita Goat Milk Formula because it helped healed my son's eczema and allowed my son to live a happy and healthy life. We've been drinking Kabrita for over 6 months, I am so happy that I found Kabrita because it changed our lives.
---
Kabrita USA Real Parent Story Series is for information purposes only. It's not meant to treat, cure, or diagnose any health issues. Before making any feeding changes, it is recommended that you speak with your healthcare professional.
Kabrita Goat Milk Toddler Formula is designed to maintain the natural comfort of little ones during feeding transitions, such as weaning, supplementing, or changing formulas due to minor issues associated with cow milk sensitivity*.

Are you curious to see if Kabrita Goat Milk Formula & Foods may be right for your family? Check out our free trial kit today!

*Not suitable for cow milk protein allergy