Kabrita Helped Soothe Logan's Eczema and Helped Him Sleep Through the Night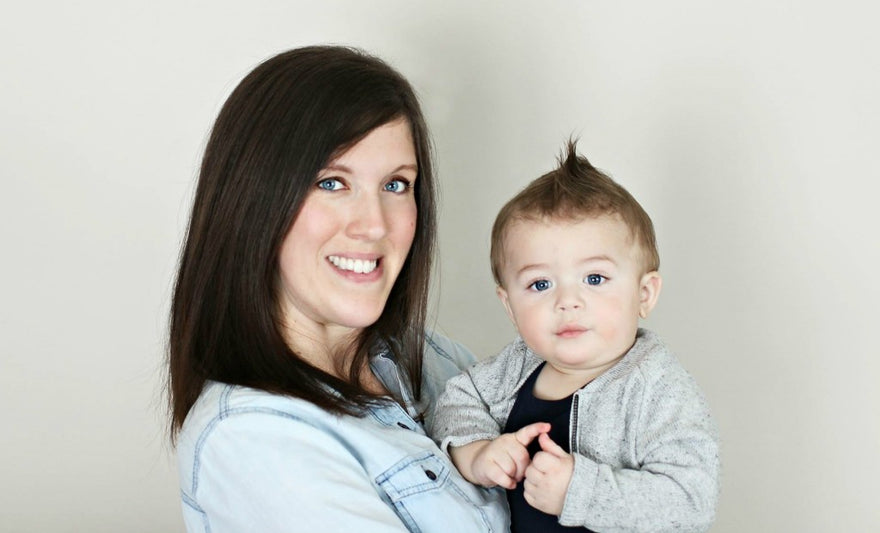 Every parent's feeding experience is as unique as their baby. While the journey may be easy for some, others may struggle. Real Parent Story is a series on our blog where we ask real parents to share their feeding stories. Whether you're expecting or already have little one, we hope these stories can offer you insight into what worked (or didn't work) for parents just like you.
Today we're sharing Cori's experience
By Cori Wandolowski
I had been exclusively breastfeeding Logan when he started to develop moderate to severe eczema. He also began spitting up frequently and was not sleeping much. He was very itchy all over, especially at night. At the time I was consuming cow milk products. I didn't realize there could be a connection between cow milk and his symptoms.
When I started supplemented his feeding with a cow milk formula, his symptoms got even worse. My husband and I took Logan to see multiple doctors, including an allergist and dermatologist. No one really had any answers. They just prescribed creams. We were told he would probably grow out of the eczema.
Not wanting to see our son in so much discomfort and not wanting to continue to use steroid creams, we started researching. We looked at diet, gut health, eczema triggers and what the best formula would be for babies sensitive to cow dairy.
We tried five different brands of formula, including one very pricey amino acid based formula, but we had no luck.
After learning how close goat milk is to breast milk, we decided we would start making goat milk formula at home, but only did so for a short period of time. It was hard to travel with and with so many ingredients required to make it nutritionally complete, it was very complicated.
When I finally came across Kabrita, I loved that I had finally found a nutritionally complete goat milk formula. We were skeptical after all the other failed attempts but to our amazement, Logan drank it down and finished 7 ounces without spitting up! That night was the first time he slept through the night.
After about two weeks Logan was sleeping better and he seemed less itchy. He still has mild eczema but we have seen an 80% clearance. I believe Kabrita has contributed to his health improvement greatly. It's helped us, too. My husband and I weren't sleeping due to stress and we also had spent hundreds of dollars on different formulas and eczema creams.
I knew healing and nurturing his gut health was what he needed to soothe his eczema and Kabrita has helped us achieve that. Now he sleeps through the night and takes great naps! He is such a happy, active, healthy little man!
We love this brand and we are so thankful to have found it. Kabrita has been a blessing to our family!
---
Kabrita USA Real Parent Story Series is for information purposes only. It's not meant to treat, cure, or diagnose any health issues. Before making any feeding changes, it is recommended that you speak with your healthcare professional. Kabrita Goat Milk Toddler Formula is designed to maintain the natural comfort of little ones during feeding transitions, such as weaning, supplementing, or changing formulas due to minor issues associated with cow milk sensitivity*.
Are you curious to see if Kabrita Goat Milk Formula & Foods may be right for your family? Check out our FREE trial kit today!