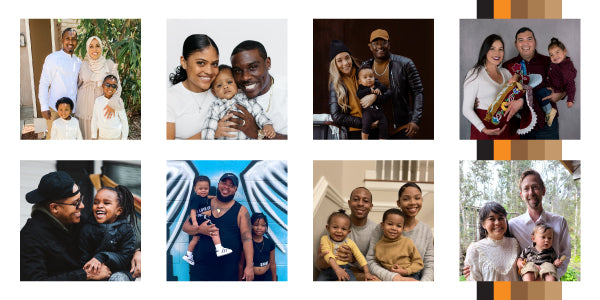 As a community-focused company, we at Kabrita USA are committed to inclusivity and celebrating diversity. In honor of Black History Month, Kabrita USA launched the Proud to Be Series across our social channels for the entire month of February.
The Proud to Be campaign centers families who are proud members of the BIPOC community and highlights important narratives celebrated by Black, Indigenous, and People of Color's history. This series features authentic videos from 8 families who focus on the joy and pride they experience in being a part of the BIPOC community. It is clear that love, joy and respect are woven into their shared experience!
Today, we are sharing excerpts from each of the 8 families featured in the series!
"We speak to our children with love, understanding, and compassion. And in turn, that is how they speak to themselves, to each other, and those they are surrounded by. What makes us so proud is seeing how confident they are, how loving they are to each other, and how much grace they show themselves."

­­­­­– Asha, on changing the narrative and breaking the cycle within her own family by providing a healthy, happy home environment.


"Our language, our culture, our arts, our ways of life, our stewardship. We're still here, we're not past tense. Every place has indigenous people, has a language, has a culture, has stories. And I think there's a lot of miscommunications that we're not here anymore."

– Wai'ala, on the importance for Indigenous people to tell their story, using the Indigenous narrative, ensuring their history is not forgotten and their presence, acknowledged.


"To our family, being a part of the Black Indigenous People of Color Community means a bond that feels like home, love and oneness. There's a language that is spoken without words, through our shared experiences, our family traditions, and our creativity."

– Totiana, on how she feels at home; full of joy and 'Proud To Be' a part of the BIPOC Community.


"I want more highlights on Black triumphs and less Black trauma. More amazing moments, the beautiful things that Black people have invented, and not just the basics. Black people have had a hand in so many things in our world today."

– Kayden, on the importance of teaching BIPOC history in schools.

"I love the music within this community. You have rap, you have hip hop, and there's so much message and meaning behind certain songs. Another thing that brings me joy is the food...especially food that's part of the BIPOC community."

– Autumn, on the things that bring her joy about being a part of the BIPOC Community.


"Be proud of the skin and the body that you're in. Elevate that, show that, be proud of it. And let's change the narrative together. "

– Avery, on encouraging other families to be 'Proud To Be' part of the BIPOC Community and cherishing the little moments.


"It makes me feel really grateful and really honored to be a mother today. And that I get to be able to mother my children without the trauma and the oppression that my grandparents experienced."

– Camille, on shedding light on the difficult history and realities faced by children during the boarding school era. 
 



"You hear all the time that there's deadbeat fathers, that fathers aren't taking care of their children, that they're not in their children's lives. And I get to de-mystify all of that."

– Damarqio, on being a present Black father, defying all odds and changing the narrative.


To view their full stories, check out the video below:
Thank you to all of the parents who contributed their personal stories to the Proud to Be Series. Sharing your communities' experiences continues to uplift and positively shape BIPOC narratives, and we at Kabrita USA are so proud to be a part of it.