Partnering for Progress on Paid Leave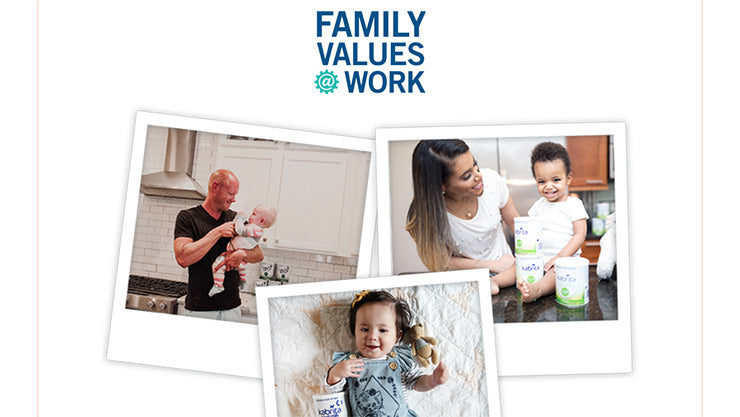 It takes a village. We've heard this saying again and again, and many of us subscribe to it, even live by it. At Kabrita, we believe it takes a village to raise strong, healthy children. One of Kabrita's core values is being community-focused. Part of this focus on community means supporting and promoting synergistic businesses and partners. We also believe in generosity. We believe that when we give more, we have more. We aim to go above and beyond to make a positive and meaningful impact on Kabrita families and communities.
In the spirit of being community-focused and generous, we'd like to share one of our newest partnerships with Family Values @ Work. A central part of Family Values @ Work's mission is to advocate for paid family leave in the United States. The U.S. is currently the only developed country in the world that does not guarantee paid leave to parents welcoming a new child. To read more about the issue of paid leave in the U.S., visit our blog on the status of paid leave in the US.
Family Values @ Work
Family Values @ Work (FV@W) is a non-profit national network connecting 27 state coalitions to each other and the wider economic justice movement by winning strong policies for paid time to care. FV@W grew out of the recognition that valuing caregiving and enabling people to be good providers and good family members is key to achieving equity and truly valuing families. The organization works with member coalitions to help win new family and medical leave laws and make sure people know about them once they're in place. Over the past decade, FV@W's member coalitions have been instrumental in helping win new paid leave laws in six states and the District of Columbia.
Our Core Values
Here at Kabrita, we believe that paid leave policies help "the village." Paid family leave is important for the health and economic well-being of individuals and families. Adequate paid leave allows employees to tend to a newborn baby with health benefits for both baby and parents, and the beneficial health dividends continue for years. Paid leave can help families and communities thrive.
Giving Back
During the month of February, to support the issue of paid leave in the United States, Kabrita will be donating 5% of all sales on kabrita.com to Family Values @ Work in addition to our regular, ongoing monthly contribution. Thank you for helping us in our aim to make the village thrive.