One-On-One With Holistic Nutritionist and Mom, Peggy K.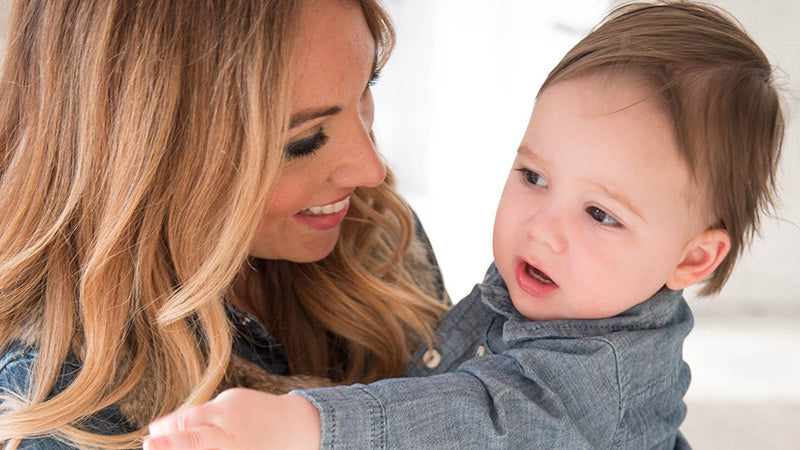 Meet Peggy. She's a Registered Holistic Nutritionist and mom of a happy 17-month-old boy, Christian. She's been working as a Nutritionist for the past 12 years, has hosted her own cooking show "Kitchen Cures" and is the author of "Must Have Been Something I Ate" and "Kitchen Cures". We are very excited to partner with Peggy and share her story on our blog!
Peggy, we are so excited to have you partner with the KABRITA family! Tell us a bit about yourself.
I'm super excited to be partnering with Kabrita as well! I am a Registered Holistic Nutritionist and Mom of a happy, sweet and rambunctious 17-month-old boy, Christian, who owns my heart! We live in New York with my husband and I've also gained two beautiful step-daughters, who are 6 and 11 years old.
I've been working as a Nutritionist for the past 12 years. I've hosted my own cooking show "Kitchen Cures" and am the Author of two books "Must Have Been Something I Ate" and "Kitchen Cures". I am a returning guest expert on the Dr. Oz Show, NBC's Today Show, The Talk on CBS, The Insider and Access Hollywood Live. I write articles for various media outlets and conduct talks & lectures across the globe inspiring and educating others on how to live a healthier, happier and more vibrant life.
Being a Mom has been the best and most rewarding job yet! Since Christian has been born, I've been very active in the mom & baby community in the city and been more focused on Infant/Toddler nutrition, and how to keep other Moms healthy & happy too!
How was your experience with feeding your own son?
I pretty much exclusively breastfed my son for the first year of his life. But it was around the 7-month mark that I wanted to explore other options. I never felt like I had enough milk. I know we are supposed to produce as much as the baby needs, but he always wanted more… and I didn't have more! I only had enough for each feeding. I wasn't one of those moms who had an over-supply of milk with their freezer and fridge stocked. I had no extra supply. When I would pump in-between feedings to try and increase supply, I felt I didn't have enough when it came time to nurse and would have to use up that only "half bottle" of supply to finish up his feeding, which defeated the point. Plus, I found pumping so soul-sucking! And after I accidentally spilt and wasted a freshly pumped bottle I decided I was so done with pumping.
I needed other options as life and work got busy and couldn't commit to such a ridged nursing schedule. And sometimes I just wanted a break! At 8 months I went on a trip without my son for 4 days and was stressing excessively about what he was going to do for milk since he ONLY breastfed. It was so hard to find a formula that I felt happy with and that he LIKED. Thank goodness he was eating a healthy diet of solids at that point and was drinking water as that's what got him through. It wasn't until Christian was 12 months old that I learned about KABRITA and really wish I had known about it earlier as a transition for weaning and supplementing.
What do you love most about Kabrita?
I love that Kabrita is a non-GMO, clean, easy to digest, high-quality formula, and in my opinion, I think it is the closest thing to breastmilk you can get in the US. When you look at the nutritional composition of breastmilk it is SO complex! There is so much goodness jam-packed in there it can be hard to replicate. Many types of milk on their own (cow, goat, almond, soy, oat) just don't stack up, and many formulas don't meet the highest quality of standards possible when it comes to the quality of milk used.
Kabrita Goat Milk formula is produced in Europe where high standards and strict regulations limit the use of antibiotics, hormones, and pesticides, and govern animal welfare. So you are starting with a clean, high-quality product. Plus, goat milk is much easier to digest than cow milk, making it gentler for little tummies. The protein in goat milk forms a smaller, softer curd in the stomach compared to cow protein. Great for anyone, but especially good for those little ones who are sensitive to cow milk protein, like my little guy.
It's also great for picky eaters! Thank goodness I'm blessed with a boy who loves to eat! But many toddlers start to become really picky about their food starting at 12-15 months. And since most moms are no longer breastfeeding at this point, Kabrita Goat Milk Formula provides a nutritionally dense alternative to other standalone milk (cow, goat, almond, or other plant-based milk). It provides peace-of-mind knowing that your child is getting all the nutrition she/he needs with all the vitamins, minerals, and macronutrients required for growing toddlers.
Why are you most excited about working with us?
I'm most excited about teaming up with a great company; that has upstanding, high quality products that I believe in; and that is 100% run & led by MOMS!! Being a new mom myself I understand how important the support, shared knowledge and community of other moms is. It really does take a village! I believe we all want to nourish our children with confidence, and am thrilled the Moms at Kabrita and I share that same goal and together we can strive to support a community of other moms & families through education, shared knowledge and without judgment!
KABRITA Goat Milk Formula is an excellent alternative to cow's milk when it comes time to supplement breastfeeding and/or wean your baby. Goat's milk protein forms a softer, smaller and looser curd in the stomach, and is broken down more quickly than cow's milk protein, making it naturally easy to digest.
If you'd like to see if KABRITA is right for your family, check out our Free Sample Offer today!