Tiffany's Journey Using Kabrita for Her Son's Constipation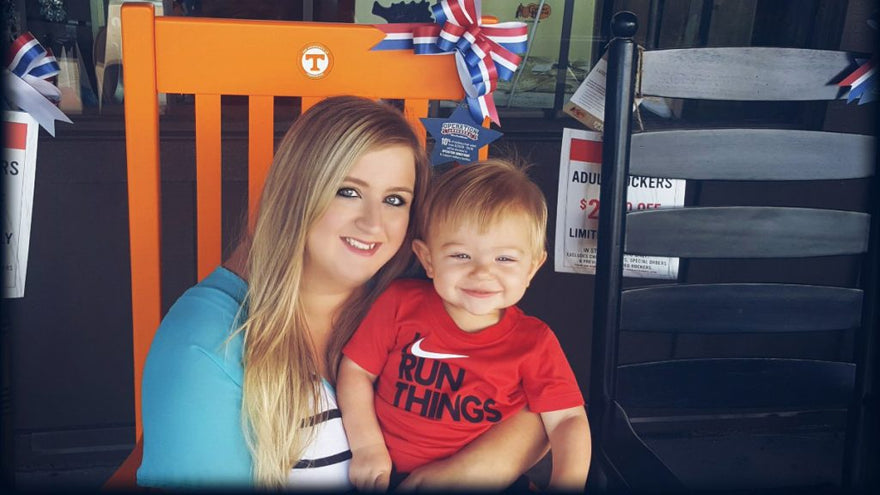 Every parent's feeding experience is as unique as their baby. While the journey may be easy for some, others may struggle. Real Parent Story is a series on our blog where we ask real parents to share their feeding stories. Whether you're expecting or already have little one, we hope these stories can offer you insight into what worked (or didn't work) for parents just like you.
Today, we will be sharing Tiffany's story
Why did your family need goat milk formula? How did you first hear of Kabrita?
Our baby boy has a sensitivity to cow's milk, chronic constipation, and acid reflux. I found out about Kabrita when I was doing research online on goat milk. We made the switch to Kabrita Goat Milk Formula two months ago. It's been a blessing for our little Maxton!
Can you describe some of Maxton's symptoms?
I had trouble breastfeeding Maxton. He didn't enjoy it and was extremely fussy, so we started supplementing with formula. He was experiencing acid reflux, chronic constipation, GI issues, and he refused to eat a lot of times. Later, we found out that he was sensitive to cow's milk.
We finally found a formula that seemed to help with the reflux, but not constipation. The doctor kept pushing medicine and upping the dosages when things didn't change. Maxton underwent few months of biopsies, tests, and an MRI. Everything came back normal, but we still didn't have any answers for his constipation.
After long nights and extensive research on baby formula, I concluded that our son could not tolerate the corn syrup solids that were in regular formula. That's when I started considering goat's milk. I talked to Maxton's GI doctor, and he was on board for the goat milk.
How were his symptoms after switching to Kabrita?
Kabrita eliminated all of his symptoms! Within a day of weaning him off his old formula and onto Kabrita, his reflux just stopped. He started having dirty diapers once a day. Now, he goes 2-3 times a day. He has been on Kabrita for two months now, and we plan to continue this journey as long as possible.
How did Maxton transition to Kabrita? What do you think of Kabrita's flavor?
It doesn't have a smell like other formulas. I did try it, and it tastes a lot better than regular formula. Most importantly, Maxton loves it. He transitioned very well!
What is your favourite thing about Kabrita Goat Milk Toddler Formula?
It does not contain corn syrup solids. It's fortified. It's free from antibiotics, hormones, heavy metals, and also certified glyphosate pesticide-free. I can go on and on. Kabrita has been a lifesaver for our little Mighty Max, and we can not say thank you enough!
---
Kabrita USA Real Parent Story Series is for information purposes only. It's not meant to treat, cure, or diagnose any health issues. Before making any feeding changes, it is recommended that you speak with your healthcare professional.
Kabrita Goat Milk Toddler Formula is designed to maintain the natural comfort of little ones during feeding transitions, such as weaning, supplementing, or changing formulas due to minor issues associated with cow milk sensitivity*.

Are you curious to see if Kabrita Goat Milk Formula & Foods may be right for your family? Check out our FREE trial kit today!