Teresa's Journey Supplementing Her Twins with Kabrita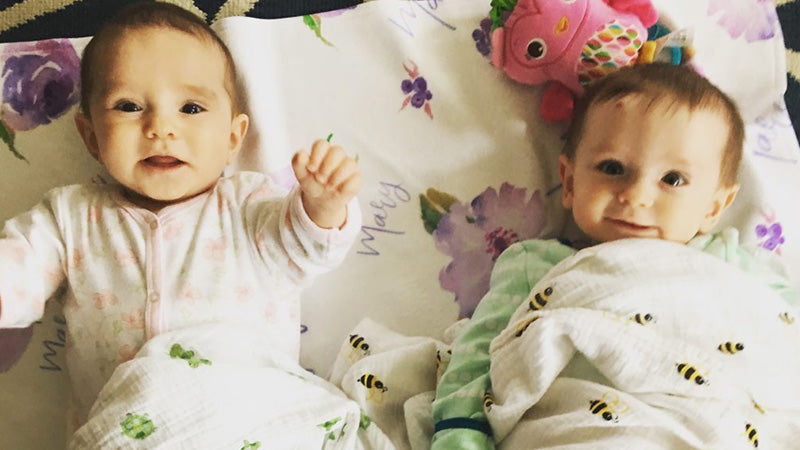 Every parent's feeding experience is as unique as their baby. While the journey may be easy for some, others may struggle. Real Parent Story is a series on our blog where we ask real parents to share their feeding stories. Whether you're expecting or already have little one, we hope these stories can offer you insight into what worked (or didn't work) for parents just like you.
Today, we will be sharing Teresa's story
How did you first hear about Kabrita?
I was researching alternative formula options after I had to supplement because of breast milk supply issues and I found Kabrita. I was looking for European formula companies because I discovered their guidelines are more strict than the US companies. In doing that research and speaking with other moms, I found out that goat's milk is more similar to breast milk and easier to digest. Since my twins started supplementing at an early age, I was nervous to give them commercial US formula because I did not have to do this with my other (singleton) infants.
Why did your family have a need for goat milk formula?
Mary was born with a tongue tie and wasn't able to nurse as well as Millie, therefore I had supply issues. Once I started supplementing, I noticed she became constipated and bloated from cow's milk formula. I spoke to my pediatrician about using an alternative, and she gave the "go ahead" to try a goat's milk formula.
Can you describe Mary and Millie's symptoms? How were their symptoms after you switched to Kabrita?
Although Millie didn't have bloating issues, like Mary, she was getting mild constipation from the cow's milk formula. After introducing Kabrita to both of the babies, constipation was no longer an issue. In addition to this, Kabrita smells so much better than other formula and mixes so much more easily. It has changed our babies lives!
I chose Kabrita because I know they are a European based company. I trusted their company after researching the gentleness of goat's milk and their production process. I also loved that when I asked questions or emailed, they answered…with a real person! I love that they also offer a discount on sample cans.
How did Mary and Millie transition to Kabrita? What do you think of the flavor?
We did half breast milk and half Kabrita until the twins were 10 months old. We had no issues transitioning entirely to all Kabrita.
I've smelled and tasted Kabrita, and it's terrific! No weird odor, or stickiness. I've added it to baby cereal and have made popsicles for the girls with it!
What is your favourite thing about Kabrita Goat Milk Formula?
I love that I can trust the company! If you have questions or need help, they answer promptly and are extremely knowledgeable of their product! I love the formula comparison sheets they offer on their website.
Is there anything else you'd like to add or share?
Kabrita has reduced a lot of stress for me on what I'm feeding my babies. Breastfeeding came easily to me with my first two children but posed so many challenges with the birth of my twin girls. Kabrita gave me the peace of mind that what I was feeding my babies was safe and healthy. I can't thank them enough for their quick responses. It has made a very hard transition (supplementing with formula before a year old) much easier. We made it 10 months breastfeeding and supplementing with Kabrita!
---
Kabrita USA Real Parent Story Series is for information purposes only. It's not meant to treat, cure, or diagnose any health issues. Before making any feeding changes, it is recommended that you speak with your healthcare professional.

Kabrita Goat Milk Toddler Formula is designed to maintain the natural comfort of little ones during feeding transitions, such as weaning, supplementing, or changing formulas due to minor issues associated with cow milk sensitivity*.

Are you curious to see if Kabrita Goat Milk Formula & Foods may be right for your family? Check out our FREE trial kit today!