Kabrita Goat Milk Formula & Foods are Baby Safe and Tested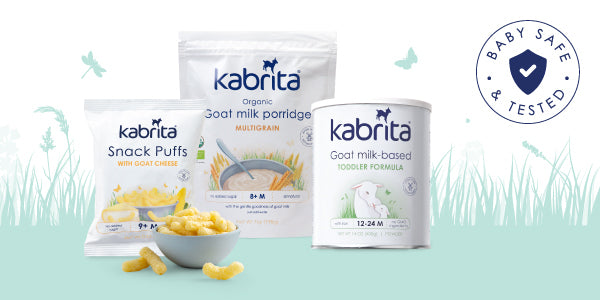 Kabrita USA is a mission-driven company. Transparency, openness and a desire to bridge the gap between the ideal of all-natural and the realities of life is at the heart of our business. We are determined to help families across the US nourish their child with confidence. Read on to learn about contaminants in baby food and Kabrita's uncompromising commitment to safety.
The Problem of Heavy Metals
Metals originate from the air and soil and much of the food supply is contending with the issue since they do not biodegrade. Young children are among the most vulnerable to environmental toxins, such as heavy metals. Chronic exposure, to even small amounts, can have a significant impact on their growth, and physical and cognitive development.
Congress' Report and Recommendations on Heavy Metals
The problem of contaminants in baby food is significant. A recent Congressional Report on toxic heavy metals in baby food revealed the gravity and breadth of the situation. For brands who provided data, arsenic, lead and cadmium were shown to be over safe limits. Unfortunately, while the Toxic Elements Working Groups was established by the FDA in 2017, no consistent or stronger regulations have (as yet) been produced. Current regulations are highly inconsistent.

The Congressional Report offered a number of recommendations to both industry and the FDA. This included mandatory testing of all finished products (not just raw ingredients), reporting of heavy metals on food labels, phasing out of toxic ingredients, and the setting of maximum levels of toxic metals permissible in baby foods.
Kabrita USA's Safety Standards
Anchored by our core values, providing foods that are healthy and safe is our greatest priority. We are pleased to confirm that the levels of contaminants in our products comply with European guidelines described in Commission Regulation (EC) No 1881/2006 setting maximum levels for certain contaminants in food. This regulation provides maximum levels for many contaminants, including, but not limited to, lead, cadmium, and mercury. For more information, please refer to the full regulations.

All of our products are manufactured in the Netherlands and our company checks the levels of contaminants both in our raw materials, as well as in the final products.

Additionally, we can assure our community that local monitoring within the United States through a third-party laboratory is a part of our quality assurance process. Kabrita Goat Milk Toddler Formula is free of* arsenic, lead, cadmium and mercury. Kabrita Goat Milk Formula & Foods** are verified to be baby safe and tested.
Babies Deserve Better
We are honoured to be a part of your family's feeding journey. We will continue to monitor our raw ingredients and finished foods to provide the high-quality assurance families deserve. We support and applaud all efforts in favor of greater oversight and regulations of heavy metals in baby food. Because babies deserve better.
*no detectable levels; <0.01 mg/kg (<10ppb)
---
Are you curious to see if Kabrita Goat Milk Formula & Foods may be right for your family? Check out our FREE Trial Kit today!
Kabrita Goat Milk Toddler Formula may be an option for little ones during feeding transitions, such as weaning and supplementing, or those with minor issues associated with cow milk sensitivity. We encourage parents to consult their little one's healthcare provider before making a feeding change.
**Not suitable for children with confirmed cow milk protein allergy