How Kabrita Supports Parents' Wellbeing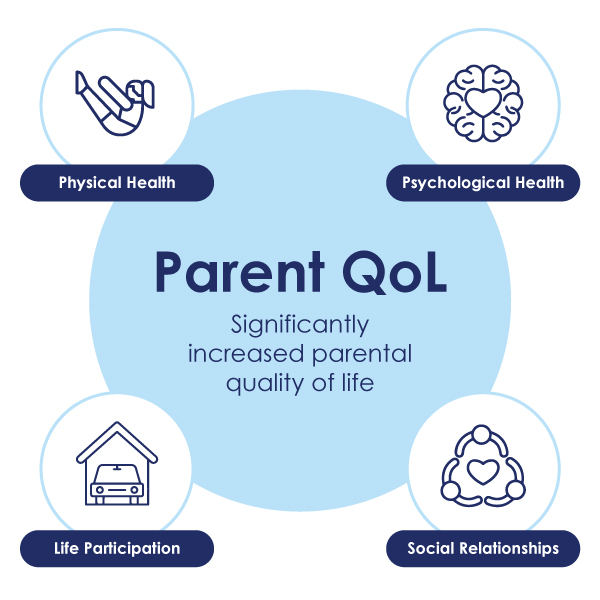 Information for Healthcare Professionals
Welcoming a baby into the world has many challenges, especially in today's world. Limited paid family leave, lack of sleep, anxiety about baby's health, changes to social and family relationships all contribute to the stress of parenthood. At Kabrita USA, we are passionate about supporting families, and we know that a baby's health and comfort can have extraordinary impacts on the rest of the family.

Kabrita USA's parent company, Ausnutria, a Dutch company with over 100 years of dairy expertise, invests in high quality clinical research to further scientific knowledge of goat milk. Here, we review two recent studies looking at how feeding practices and Kabrita may impact parents.
Improved Maternal Quality of Life
In a recent pilot study (1), babies with mild gastrointestinal discomfort using formula were randomized to receive standard treatment (cow milk formula plus probiotic), or interventional treatment of Kabrita goat milk infant formula*. Results were presented at the International Conference on Growth and Nutrition. Various outcomes were measured, including maternal quality of life, with the thinking that if baby's discomfort improves, perhaps this will impact the mother also.

Maternal quality of life was measured using the WHO QOL (World Health Organization Quality of Life) assessment tool, which includes aspects of physical and psychological health, social relationships, and life participation. After 14 days of intervention with Kabrita goat milk formula, maternal quality of life significantly improved compared to baseline. We think that's pretty meaningful.
Kabrita Enhanced Sleep Duration
We know that sleep plays a pivotal role in an infant's development and health, but just as important, infant's sleep significantly affects the sleep and wellbeing of parents. As parents, we know that every minute of sleep counts.

Ausnutria recently published one of the largest randomized controlled trials in goat milk infant formula (2), primarily looking at growth and safety. As part of the study, secondary outcomes of infant sleep duration were measured, comparing goat milk infant-based formula and cow milk based infant formula, and results were presented as a poster paper at ESPGHAN Annual Congress 2022.

In the study (3), 230 infants and families completed reliable diaries on sleep*. Total sleep in all groups decreased over time, as we expect in newborns. Daytime sleep was approximately 30 minutes longer for infants in the goat milk formula group compared to cow milk formula group. Additionally, the infants in the goat milk formula group tended towards longer total sleep duration, with a significant difference at 28 days of intervention. The authors conclude that the "results are highly important, as sleep impacts health of both parents and infants."


For free access to the poster presentations, full paper downloads, and infographic study summaries, visit the Ausnutria Nutrition Institute, our scientific research hub exclusively for healthcare professionals.



At Kabrita USA, we know that the decision to formula feed is a personal one and that baby's and family's wellbeing is a significant factor influencing that decision. As a mom founded company, we are honored to play a part in the feeding journey. We are proud of Ausnutria's ongoing efforts in furthering the study of goat milk and it's benefits on little ones and families around the world.

*The studies outlined were performed using Kabrita goat milk infant formula in Europe, where goat milk infant formula has been approved and available for many years. Kabrita USA currently has a toddler formula for children 12-24 months, and we are working with the FDA to bring our infant goat milk formula to the US.




---
Are you a healthcare practitioner interested in learning more about how goat milk-based formula may benefit your patients? Visit our Health Professionals page to learn more about goat milk formula and request free samples for your clinic!


1) Meijer-Krommenhoek Y, et al. Goat milk based infant formula improves gastro-intestinal discomfort in infants in a randomized controlled pilot study. Poster presented at: 8th International Conference on Nutrition and Growth; August 26-28, 2021; Virtual. Link.
2) He, T., et al., Goat milk based infant formula in newborns: A double-blind randomized controlled trial on growth and safety. Journal of Pediatric Gastroenterology and Nutrition. 2022 Jun 6.
3) Van Lee, L., et al. Sleep duration in infants fed goat milk-based infant
formula: Secondary outcomes of a double-blind randomized controlled trial.
Pediatric Gastroenterology and Nutrition. 74(S2):988, June 2022.