Healthy Cookies and Cream Recipe for Toddlers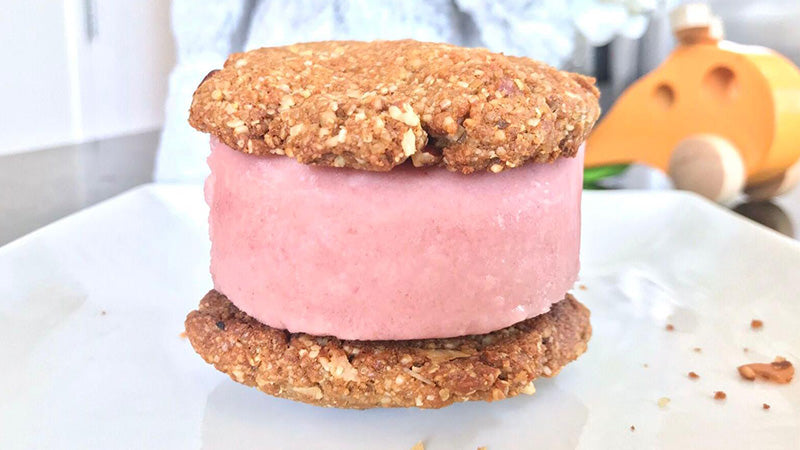 Finding a nutritious summer treat for your little one can be hectic, but this toddler-approved cookies and cream recipe fortified with Kabrita Goat Milk Toddler Formula is the perfect refreshing treat for your little one!
By Roselyn from Petite Plus One

It's no secret how much I love Kabrita Goat Milk Toddler Formula. It's not just two 8oz servings a day—we mix it into so many tot-approved recipes for Grayson. Here's a quick example of how we use it to make Grayson's Healthy Cookies and Cream. It's the perfect cool, summer treat.
Cookie Ingredients:
2 cups (200 g) rolled oats
3 scoops of Kabrita Goat Milk Toddler Formula
3 oz of water, room temperature
½ cup (100 g) coconut oil, melted
¼ cup (85 g) honey
2 tsp vanilla
1 egg
1 tsp baking soda
1 pinch salt
¼ cup (45 g) shaved coconut flakes
¼ cup (45 g) walnuts
Ice Cream Ingredients:
3 bananas, cut into coins and frozen
½ cup (100 g) frozen strawberries
4 scoops Kabrita Goat Milk Toddler Formula
4 oz (100 g) water, room temperature
1 tsp vanilla
How To Make Cookies & Cream:
Preheat oven to 375˚F/190˚C.
Combine the ice cream ingredients into a blender and blend at a high setting. Transfer to a silicone mold or other freezer-safe container and freeze for 2 hours, or until the consistency is set solid; preferably thick and creamy but still scoopable.
Add the rolled oats to a bowl of a food processor and pulse until it becomes a flour-like consistency.
Combine coconut oil, honey, vanilla, Kabrita Goat Milk Toddler Formula, water, and egg in a large bowl. Add in oats, baking soda, and a pinch of salt and mix until thoroughly incorporated. Fold in shaved coconut flakes and walnuts.
Using an ice cream scoop or a tablespoon, form 8 balls of cookie dough and place onto a baking sheet lined with parchment paper.
Using your hands or the back of a spoon, press down firmly on each ball to form a cookie shape. Bake for 8-10 minutes, or until golden brown on the edges.
Let cool for 10 minutes. While the cookies are cooling, remove ice cream from the freezer and let sit out to soften.
Freeze for 1 hour, or consume immediately to your liking.
---
Are you curious to see if Kabrita Goat Milk Formula & Foods may be right for your family? Check out our FREE Trial Kit today!

Kabrita Goat Milk Toddler Formula may be an option for little ones during feeding transitions, such as weaning and supplementing, or those with minor issues associated with cow milk sensitivity*.

*Not suitable for children with confirmed cow milk protein allergy