Goat Cheese Corn Bread with Kabrita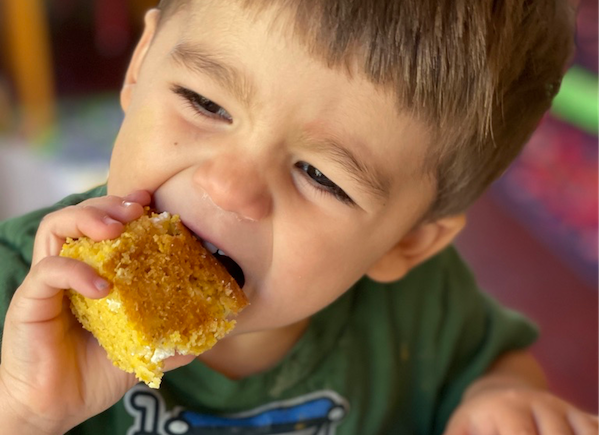 This cornbread is so moreish – you can't help but go in for a second serving. And, thanks to the addition of Kabrita's Goat Milk Toddler Formula, it's also nutritious! Perhaps the best part of this cornbread is that it is very easy to make; simply combine the
dry ingredients with the wet ingredients and place in the oven to bake. The result is a savory, lightly salted, mildly tangy, slightly crunchy and very tasty cornbread. 100% Kid-approved!
Ingredients:
Dry Ingredients:
1 1/2 cup yellow cornmeal
1 tsp baking powder
1/2 tsp baking soda
1 tsp salt
3 oz goat cheese
Wet Ingredients:
3/4 cup milk substitute
2 large eggs, whisked
1/4 cup butter substitute, such as Earth Balance
3 tbsp honey


How To Make Goat Cheese Corn Bread:
Preheat oven to 350 F.
Brush a medium skillet (9 inch approx.) with oil.
Combine dry ingredients into a large bowl and flake in the goat cheese.
Mix wet ingredients together, making sure the butter is sufficiently melted before adding it in.
Combine wet ingredients with dry ingredients and stir gently to combine.
Pour batter into skillet and bake for 25 minutes.
Enjoy!
---
Originally published May 1, 2021
We love seeing how parents incorporate the Gentle Goodness of Kabrita Goat Milk Foods into their everyday.

Tag us in your recipes @hellokabrita for a chance to be featured!