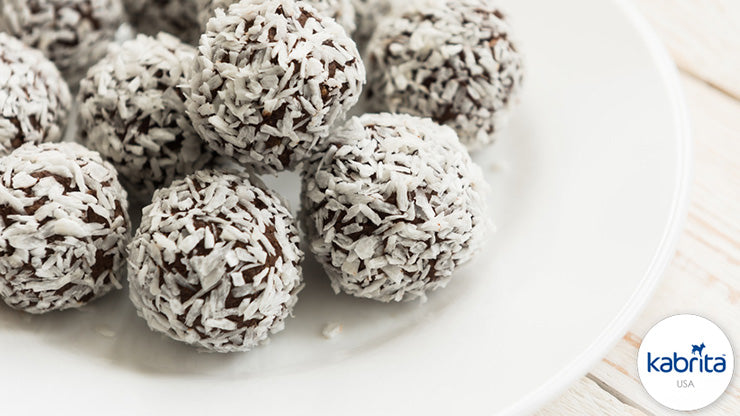 While it still may be cold outside, this recipe will bring some extra fun indoors: you can get the whole family involved in the kitchen making KABRITA's unique twist on Energy Balls. They are a perfect snack for you or your little one, any time of day!
These energy balls are a good source of calcium thanks to KABRITA non-GMO Whole Goat Milk Powder. Calcium contributes to bone health and helps to keep bones strong throughout our lifetime.
Your little one will love to get their hands dirty rolling up the balls and dipping them in fun toppings, like chopped almonds and coconut shavings.
Ingredients:
Yields: 12 balls/ 6 servings
1 cup of water
3 tbsp of goat milk powder
a pinch of salt
1 tbsp of honey
¼ teaspoon cinnamon
¼ cup brown rice
¼ cup golden raisins
¼ cup unsweetened flaked coconut
¼ cup raw almonds, chopped
How To Make Energy Balls:
Preheat oven to 375 degrees. In a large saucepan, combine water, goat milk powder, honey, cinnamon, and salt; bring to a boil over medium-high heat. Add rice and stir. Partially cover reduce heat to low, and cook, stirring occasionally, until rice is tender, approximately 30-35 minutes.
Transfer rice to a bowl and stir in raisins. Cover with plastic and refrigerate until cold, at least 2 hours.
Spread coconut and almonds on a rimmed baking sheet and bake, tossing occasionally, until coconut is golden brown, approx. 4 to 6 minutes. Set aside to cool.
Using a tablespoon, scoop up rice mixture and roll into balls in your hands (this recipe should yield 12 balls). Once balled, roll the rice ball in the coconut-nut mixture until coated with topping. Place on a rimmed baking sheet and refrigerate for an hour before eating. Balls can last in the fridge for up to 2 days.
Nutritionals

(per serving):
Calories: 113
Fat: 6g
Cholesterol: 2.5g
Sodium: 18mg
Carbohydrates: 13g
Fiber: 1.2g
Sugar: 15g
Protein: 3.3g
Calcium: 12%
Sign up for our VIP program to keep up with all our recipes and don't forget to follow us on Twitter, Pinterest and Instagram, and like us on Facebook for more nutrition and parenting tips!