BIPOC Parenting Series: Camille's Story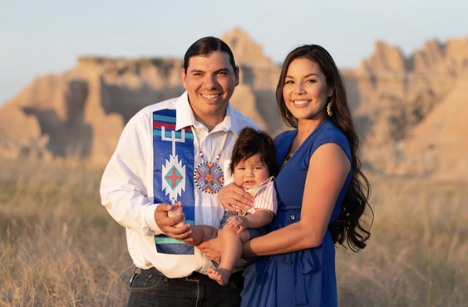 As a community-focused company, Kabrita USA strives to be inclusive and to continuously celebrate diversity. In honor of Black History Month, Kabrita USA is featuring a BIPOC Parenting Series, for the entire month of February. The BIPOC Parenting Series centres BIPOC (Black, Indigenous, and People of Color) parents' experiences. Our goal is to enhance greater representation of BIPOC parents in the media, as well as to amplify BIPOC voices and stories.
Today, we are sharing Camille's story about parenting during a global pandemic, being a proud parent, and celebrating her son's indigeneity.
Camille's Story:
Háŋ mitákuyapi,
Dé miyé čha Camille Sine FireThunder emáčiyapi. Sisíthuŋwaŋ Waȟpéthuŋwaŋ Oyáte hemátaŋhaŋ. Kabrita BIPOC Parenting Campaign éd wíyuškiŋyaŋ ówaphe. Čhaŋtéwašteya napé čhiyúzapi.
Hello my relatives,
My name is Camille Sine FireThunder. I am Dakota from the Sisseton Wahpeton Oyate in northeastern South Dakota and Ho-Chunk from Wisconsin. I am honored to be a part of Kabrita's BIPOC Parenting Campaign. I greet you with a good heart and handshake.
Before I continue, I'd like to introduce my family and myself. As stated earlier, I am a Dakota and Ho-Chunk woman, wife, mother, teacher, and relative. I am very proud and honored to have each of these titles! My husband's name is Alex and we have been married for about a year and a half. My husband is Lakota from the Oglala Sioux Tribe. We are both teachers and we teach on my husband's homelands in southwestern South Dakota. Together, we have a beautiful 11-month-old son. His name is Odówaŋ, which means "song" in the Dakota language. Odówaŋ is phonetically pronounced like this: Oh-DOE-wah. It is important to me that his name is pronounced correctly, as Indigenous languages all over the United States and Canada have been prohibited, attacked, and outlawed throughout history. I feel that teaching (and correcting) people to say my son's name is an act of reclaiming our language and strengthening our identity.
My truth is that my parenting experience has been heavily, if not completely, influenced by the global pandemic of COVID-19. My son was born in February 2020, about three weeks before everything around us started closing and cancelling. Out of respect, love, and precaution for our newborn baby and our cherished elders, my little family has committed to living a socially distanced lifestyle. We stay home, away from people, all the time. We believe by putting other's safety and well-being above our desire to gather and be social is our fulfillment of our kinship duty to "be a good relative".
Being isolated as a new mom has been pretty tough, to be honest! The hardest thing for me is feeling sad that our families have not really gotten to know Odówaŋ. He hasn't been held, passed around from grandmother to grandmother, our relatives didn't get to bask in his sweet newborn scent, they haven't kissed his cute little toes, or tickled him and heard his adorable laugh. In my family, when a baby is born, we have a Baby Welcoming. Everyone comes together, the baby is welcomed and prayed over, gifts are given, games played, and of course, we eat. Odówaŋ may not have had a Baby Welcoming, but he will for sure have a Toddler Welcoming! I can just picture him running/stumbling around with his older cousins and feeding himself at his own Baby Welcoming. Thinking about this makes me smile and laugh!

Since my family has been in our own little bubble for the past eleven months, I have found so much support online and on social media. The Native/Indigenous community online is alive and well! I love following Indigenous motherhood groups and pages on Facebook and Instagram. The mamas, aunties, and grandmothers are always helping me out with their "old Indian tricks" to common baby questions and ailments. I appreciate them so much! Though miles and hours apart, I am still very much in touch with my family. My sister-cousins and I will join a video call and we'll just visit and visit. It's so fun and so good for my mental health. Thank you, technology!
Despite everything, my husband and I have absolutely loved spending so much time with our baby boy! Of all the things we have focused on and experienced with our son, two things really stick out in my mind: land and food. I feel we have done a great job exposing Odówaŋ to the land. We have spent hours upon hours being outdoors surrounded by nature. We have enjoyed hiking, swimming, exercising, and foraging for traditional foods and medicines. One of the traditional foods we foraged is called thíŋpsina (TEEP-see-nah), a wild prairie turnip. Thíŋpsina is typically used and eaten in soups. Once prepared and dried, thíŋpsina can stay good for a long time. It has been a staple in Dakota and Lakota traditional diets for centuries and have sustained our ancestors through many tough winters. When Odówaŋ turned six months old and we started thinking about what first solid food we wanted to introduce to our son, we decided on thíŋpsina! We made a simple thíŋpsina and breastmilk puree and he loved it! As parents, we try to be cognizant of the foods we feed our son and pray our choices make Odówaŋ love, appreciate, respect, and protect Iná Makhá (ee-NAH mah-KAH), Mother Earth.
One of the most rewarding parts about being a parent is watching my baby grow and develop. It is so incredible just watching and witnessing him become who he is! I love looking at my son's face--admiring his beautiful features--and reflecting on all the people it took to make him, him. I am proud of my husband and I for being loving parents. We obviously owe this to our family as well. I often think about all the atrocities and attempted genocide that the United States strategically inflicted on Native people. When I think about this, one resounding statement always comes to mind: I am proud that we exist! I agree 100 percent with the saying: "Our existence is our resistance!" By raising my son in a safe home, where his indigeneity is celebrated, where he can grow his hair long, speak his Dakota and Lakota languages, sing our songs, and have a strong relationship to the land--I know that all of this brings honor and healing to our relatives and ancestors watching over us. I love my son with every ounce of my being. I feel honored he chose me to be his mother.
Phidámayaye (pee-DAH-mah-yah-yeh) to Kabrita for featuring my family and I in the BIPOC Parenting Campaign! I wish everyone a beautiful Black History Month full of learning, listening, and self-reflection!
---
Kabrita USA BIPOC Parenting Series shares genuine stories written by parents from the BIPOC community. Each story offers a different perspective from their personal parenting experience. To read more stories, please visit our Nourish Blog.