Best Cow Milk Alternative for Toddlers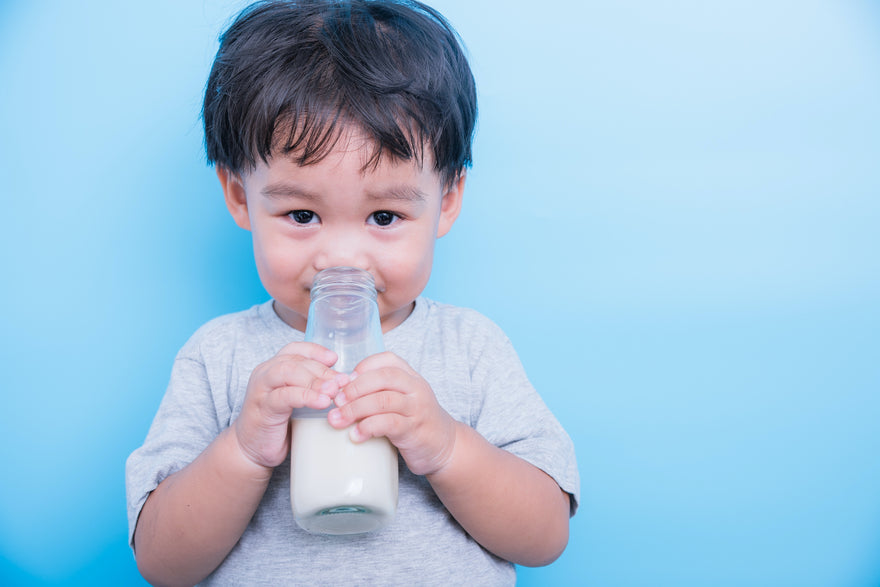 For families avoiding cow's milk, finding the best milk alternative for toddlers, that is nutritionally suitable (and tasty!), can be difficult. Read on to learn about important nutrients in cow milk, why some toddlers may not consume cow's milk, and what to consider when looking for the best cow's milk alternative for your little one.
Should I Give My Baby Cow's Milk?
The American Academy of Pediatrics recommends incorporating whole cow's milk into a child's diet at the age of 1 year. Since cow's milk is not nutritionally suitable for infants (it's notably low in iron), it's best to stick with breast milk or infant formula before 12 months. However, cow's milk may be a good complement to a toddler's healthy diet. Cow's milk delivers valuable nutrients, including protein, fat, B-vitamins, vitamin A, vitamin D, and zinc. Since fat is essential for growing toddlers, it's recommended to use full fat cow's milk.
Is Cow's Milk Right For Everyone?
While cow's milk may provide important nutrients for toddlers, it may not be right for everyone. Some children may have symptoms associated with cow's milk consumption such as tummy troubles, eczema, or chronic congestion. Other families avoid cow's milk as a matter of personal preference. For toddlers not consuming cow's milk, it's important for parents to find a cow's milk alternative that is nutritionally suitable to support their rapid growth and development.
Important Nutrition For Toddlers
The little bodies of toddlers are rapidly growing. So, it's important that they consume whole foods that can deliver the nutrients critical to this development. While all nutrients play a role in optimal health, picky eating toddlers may miss out on adequate daily intakes of iron, omega-3 fatty acids, vitamin D, and protein.
Comparing The Alternatives
Plant-based milk may come from soy, coconut, or nuts like almonds or cashews. These kinds of milk may be a delicious option for some children but often lack essential nutrients for young toddlers including protein, iron, and omega-3 fatty acids.
Goat milk* contains naturally easy to digest protein, which forms a softer and smaller curd in the gut compared to cow milk. And, it's degraded more quickly than cow's milk protein. Goat's milk may be a delicious cow's milk alternative for older children and adults. However, it too lacks some essential nutrients for toddlers, such as folate, iron, and omega 3 fatty acid.
Kabrita Goat Milk Toddler Formula contains naturally easy to digest goat's milk protein and is designed for toddlers aged 12-24 months. It is fortified with 22 vitamins and minerals, including folic acid, iron, and omega 3 fatty acids. It has a naturally sweet, mild, and delicious taste. For toddlers avoiding cow's milk, Kabrita Goat Milk Formula* may be a delicious and nutritious alternative.
---
Are you curious to see if Kabrita Goat Milk Formula & Foods may be right for your family? Check out our FREE Trial Kit today!

Kabrita Goat Milk Toddler Formula may be an option for little ones during feeding transitions, such as weaning and supplementing, or those with minor issues associated with cow milk sensitivity*.

*Not suitable for children with confirmed cow milk protein allergy