6 Easy recipes for kids with cow milk sensitivity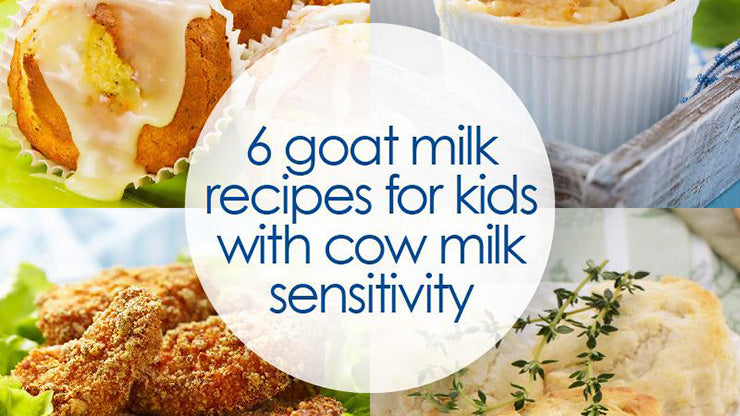 Kids with cow milk sensitivity don't have to miss out on their favorite foods! Here are some of our favorite cow milk-free recipes.
Cow milk sensitivity can cause tummy troubles, congestion, eczema and much more. Goat milk can be a great solution for many, so we've swapped out cow dairy for goat milk, yogurt and cheese in these classic recipes. They're gentle, easy and delicious!
Check Out Our Recipe Inspirations Below:
Add protein, fiber and essential vitamins and nutrients to your little one's breakfast with our Green Mango Smoothie. Bonus: this easy recipe is a great way to get nutrition on the go.
Get the recipe here.
We put a goat milk twist on this favorite, making it a delicious lunch or dinner choice for kids with cow milk sensitivity. Plus, this recipe has double the protein and less sodium than average store-bought varieties.
Get the recipe here.
Traditional fried chicken usually uses buttermilk or ranch dressing in the recipe. We used KABRITA Goat Milk Toddler Formula instead and oven-fried these crispy bites for a healthier, cow milk-free alternative.
Get the recipe here.
These cheesy biscuits are a great addition to breakfast or lunch, and they're easy to pack for a picnic! The best part: they're ready in just 30 minutes!
Get the recipe here.
For a sweet treat (and a burst of flavor!) after dinner, try using KABRITA Goat Milk Yogurt and Fruit instead of butter in lemon cupcakes. They come out light and fluffy, and with less fat!
Get the recipe here.
Frozen treats can pack the nutrition punch of frozen yogurt — even for kids with cow milk sensitivity. These refreshingly delicious ice pops are a great way to cool down with goat milk for summer.
Get the recipe here.
It's easy to swap cow milk for KABRITA Goat Milk Toddler Formula in all your family's favorite recipes with our simple substitution rule. Check it out here.
See all of our goat milk recipes here and don't forget to sign up for our newsletter and subscribe to our blog, like us on Facebook, and follow us on Twitter, Pinterest and Instagram to get new recipes every month.