Easy Recipe: Annie's Granola Bars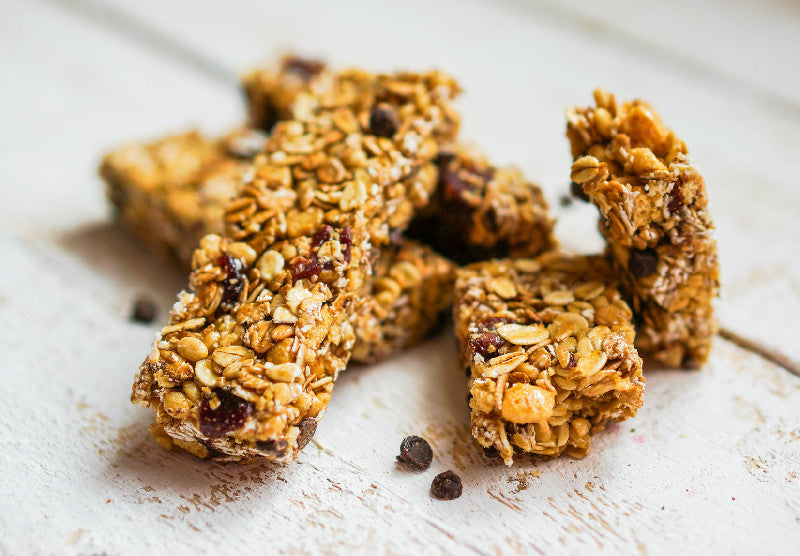 By Dr. Annie Salsberg, N.D.
Preparation time: 15 minutes
Baking time: 40 minutes
Makes 16-18 bars
Ingredients:
4 cups rolled oats
1/4 cup Kabrita Goat Milk Formula, unprepared
1/4 cup brown sugar
1/4 – 1/2 tsp salt
1/2 cup sunflower seeds
1/2 cup pumpkin seeds
1/4 cup hemp seeds
1/4 cup chia seeds
½ cup grapeseed oil
½ cup maple syrup
2 tsp vanilla
Optional: Mini chocolate chips
How To Make Annie's Granola Bars:
Preheat oven to 325F
Combine dry ingredients rolled oats, Kabrita Goat Milk Formula, brown sugar, salt, sunflower seeds, pumpkin seeds, hemp seeds, and chia seeds, into a large bowl.
Whisk wet ingredients 1/2 cup grapeseed oil, 1/2 cup maple syrup and 2 tsp vanilla in a separate bowl.
Combine wet mixture into dry mixture, stirring until evenly mixed.
Pat down evenly onto a baking sheet.
Bake 40 minutes at 325F, rotating the pan halfway through.
Let cool completely then cut into bars and enjoy!
Nutrition facts per bar: Calories: 245, Protein: 6g, Carbohydrates: 28g, Total Fat: 14g, Saturated Fat: 1g, Trans Fat: 0g, Fiber: 6g, Sugar: 11g, Sodium: 41mg, Iron: 10% DV, Vitamin C: 5% DV, Vitamin A: 2% DV, Calcium: 11% DV
---
Dr. Annie Salsberg is a board-certified naturopathic physician and Sr. Medical Engagement and Education Manager at Kabrita.
Ready to boost your smoothies and recipes? Join thousands of happy Kabrita Families and claim your free trial offer today!
Kabrita non-GMO Goat Milk Formula is designed to maintain the natural comfort of little ones during feeding transitions, such as weaning, supplementing or changing formulas due to skin or tummy troubles*.
*Not suitable for cow milk protein allergy